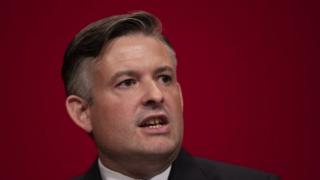 Image copyright Getty Images Image caption Jonathan Ashworth: 'I was correct – that was the irony of the phone call'
Labour's "devastating" general election defeat could spell the end of the party, shadow health secretary Jonathan Ashworth has warned.
The Labour MP told a BBC Radio 4 documentary the party had to change or face up to 15 years out of power.
"Unless we do something quick this could be the end of the Labour Party in this country", he said.
Senior Labour and Tory figures give frank assessments of the 2019 campaign in the programme to be aired on Sunday.
Labour went down to its worst defeat, in terms of seats, since 1935, although its vote share was slightly higher than when it lost in 2010 and 2015.
Mr Ashworth had to apologise to his party two days before the election, after saying he did not believe it could win, blaming "the combination of Corbyn and Brexit".
'Voters didn't buy it'
He said he was "set up" by a Tory friend, who secretly recorded his comments and released them to the media.
"I obviously regret that and I still think about it all time," he told The Inside Story of Election 19 documentary.
But he added: "I was correct – that was the irony of the phone call."
The Leicester South MP is critical of Labour's decision to focus on claims the Conservatives were plotting to put the NHS on the table in trade talks with America.
"It was a legitimate point to make, but I think, politically, voters didn't buy it," he said, because it did not directly affect their lives.
Image copyright EPA Image caption Michael Gove: 'Boris would have done brilliantly'
He also claims there was a lack of communication and planning at the heart of Labour's campaign.
He said he was told about the party's free broadband pledge by a BBC Newsnight producer while he was waiting to go on air to talk about Labour's NHS policies.
"I knew nothing about it," he said, adding that it "was a week when we were trying to focus on the NHS and we were suddenly going off in another direction".
'A Brexit election'
He added that he did not think Labour should assume it would automatically return to power – and it needed to change.
"We could be out for another five to 10, 15 years," he said.
Image copyright PA Media Image caption Layla Moran: Brexit policy 'made us look stupid'
Jeremy Corbyn's former director of communications,