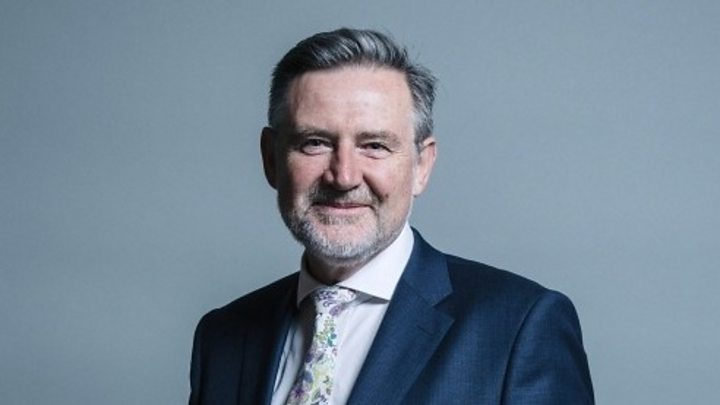 Media playback is unsupported on your device
Media captionBarry Gardiner tells Today a second EU vote could be "socially disruptive"
Holding another referendum on the UK's EU membership could lead to "civil disobedience", a shadow minister says.
Labour's Barry Gardiner said calls for another vote undermined "the whole principle of democracy in this country", warning voters could turn to "more socially disruptive ways of expressing their views".
Both Labour and the Conservatives have ruled out another referendum.
But some MPs want a vote on the final Brexit deal.
One of the supporters of the People's Vote campaign, Labour MP Ben Bradshaw, said Mr Gardiner was ignoring "the democratic right of the people to change their minds".
The UK voted to leave the EU in June 2016, and this is due to happen in March 2019. Negotiations are taking place on what their final relationship will look like.
The government has promised MPs a "meaningful vote" on any deal reached with Brussels – but the People's Vote campaign think this should be the subject of a new nationwide referendum.
Speaking on BBC Radio 4's Today programme, Mr Gardiner, the shadow international trade secretary, said that while he had campaigned for a Remain vote, there was "more to this than simple economics – there is also the social, the democratic principles at play here".
Image copyright Getty Images Image caption The 2016 EU referendum resulted in a vote to leave the EU
Remain and Leave campaigners had told people that voting in the 2016 referendum would determine the UK's future for the next 40 or 50 years, he said.
"We meant it," he added.
Warning against Remain campaigners telling people they were "stupid enough to do what you wanted rather than what we wanted", he said: "You never give as much succour to the extreme right as when you cut off the mechanism of democratic change.
"If people want to be able to achieve change through democratic means, if they feel that that is being denied to them, they then turn to other more socially disruptive ways of expressing their views, and that is the danger here."
Holding another referendum would be "playing with the foundations of our country in a way that is really, really damaging," he added.
"We have to respect people's vote in that referendum. We told them we would, we must do it."
Pressed on whether he believed another referendum could prompt violence on the streets, Mr Gardiner insisted he "didn't say that"