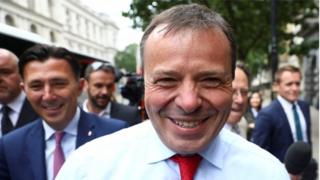 Image copyright Reuters Image caption Mr Banks is a co-founder of the Leave.EU group
An application to join the Conservative Party by Leave.EU co-founder and former UKIP donor Arron Banks has been turned down, the Tories have said.
Mr Banks and the pro-Brexit group's communications director, Andy Wigmore, both announced on social media that they were joining the party.
The pair said they had received a confirmation email welcoming them.
But a Conservative Party spokesperson later said their "applications for membership… have not been approved".
Earlier this week Mr Banks called on supporters of his pro-Brexit Leave.EU group to join the Conservative Party so they can vote in the party's next leadership election.
He posted a series of tweets about joining the Tories – including one saying he had made the move "to ensure he has a vote on the inevitable leadership contest. Let's back a Brexiteer and make this country great again!"
Mr Wigmore tweeted a copy of a letter from Conservative Party chairman Brandon Lewis stating that their membership was "activated" and they would be able to take part in candidate selection and future leadership elections after three months.
Who is Arron Banks?
The 52-year-old is a multi-millionaire who co-founded the Leave.EU campaign.
Having made his money in vehicle insurance, he was one of the largest donors to the UK Independence Party and gave £9m to Leave.EU which he has said came from his personal wealth.
In May Leave.EU was fined £70,000 for breaches of election law in the 2016 EU referendum by, according to the Electoral Commission, failing to report "at least" £77,380 it spent.
He has also been grilled by MPs about his influence on global politics with Mr Banks laughing off the idea he was an "evi