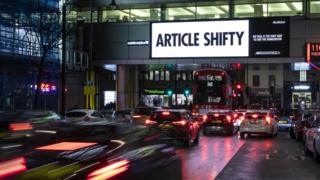 Image copyright Brexit Express Image caption Campaign groups, including those for Brexit, are among those hiring out billboards
In a world which is increasingly moving online, the old-fashioned billboard seems to be having a moment.
Brexit campaigners on both sides have hired billboards across the UK, while activists for other causes – from promoting the Saudi crown prince to veganism – have got in on the act.
This is despite internet advertising booming: in 2017, the £11.5bn online market overtook all other forms, a report for the government found.
So why are billboards still popular?
The Brexit campaigners
Led By Donkeys is the name of a group of four friends who describe themselves as an anti-Brexit guerrilla protest group. They came up with their idea last December, while discussing Brexit in a pub.
They were talking about how tweets (in particular one of David Cameron's) can get lost amid the noise of the internet. They wondered: "Can we make sure it wasn't forgotten about?"
Four months on, the group has hired more than 240 billboards across the UK, having raised over £340,000. The posters feature old tweets or quotes from politicians who have been involved in the Brexit process.
Image copyright Led By Donkeys Image caption The first billboard went up next to the A10 in London
Why choose billboards? Co-founder Adam – not his real name – believes endless scrolling through digital content has led to a "problem in holding politicians to account – they get away with saying things".
"Very quickly these quotes disappear into the digital graveyard. We have put these tweets back into the public space. It gives people the opportunity to re-read them in the reality about what's unfolding."
"In an information-rich, perhaps information-overloaded age, putting these words up without… commentary gives people an opportunity to appraise them on their own terms.
"That's the space in which people can begin to change their own minds."
Image copyright Led By Donkeys Image caption A banner in Dover shows a quote during a 2011 debate on the UK's relationship with the EU
There's another point, he added – not everyone who is politically engaged is on social media.
"Taking [the words] off the digital, makes them more tangible. That move from digital into physical thing, the responsibility for the words becomes more acute."
On the other side of the debate is Brexit Express, a pro-Leave group formed in the run up to the 2016 EU referendum.