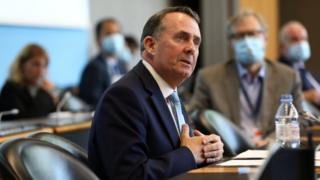 Image copyright Reuters
Coronavirus will lead to a worldwide economic downturn somewhere between a "bad dream and worst nightmare", former cabinet minister Liam Fox has warned.
The Conservative MP said many leaders have failed to grasp the expected economic fallout from the crisis.
Dr Fox was speaking to BBC Newsnight as he made his case to become head of the World Trade Organization (WTO) in Geneva.
He also suggested that the UK could be granted a second Brexit transition phase.
Speaking at the WTO headquarters, the former international trade secretary indicated that the Geneva-based body could oversee another transition period if the UK and the EU agree a new trading relationship this year.
"We have what are known as differential treatments here which often allow countries who have a clear destination time to adapt to those changes," Dr Fox told BBC Newsnight.
"I think that everything should be done by the rules and there are a number of precedents set here for transitions, there are a number of precedents set here for differential treatments. That is a matter for the officials here."
A transition, overseen by the WTO, would be different to the current Brexit transition. That involves full UK participation in the EU without a vote.
Dr Fox indicated that a second transition could be used to allow a phasing in of new border arrangements between Britain and the EU which has been proposed by Michael Gove.
Liz Truss, the current international trade secretary, has warned that the Gove plan could leave the UK vulnerable to a WTO challenge on the grounds that EU imports to the UK would be treated more favourably than imports from elsewhere.
Economic implications
Prime Minister Boris Johnson nominated Dr Fox, a long-standing Brexit supporter, to be head of the WTO around an hour before the deadline earlier this month.
He is one of eight candidates hoping to succeed Roberto Azevedo, whose time in office was overshadowed by the effective freezing of the WTO's dispute mechanism and trade skirmishes between the US and China.
Image copyright Reuters Image caption The candidates are vying to succeed World Trade Organization director general Roberto Azevedo
Dr Fox believes calculations about global trade before the pandemic will have to change as the world deals with the downturn.