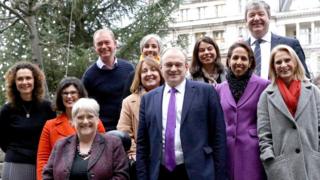 Image copyright PA Media Image caption After the heady days of the coalition, the Lib Dems remain a diminished force in Westminster
The election of a new Liberal Democrat leader in less than a month's time will mark another watershed moment for the party.
The party's 120,000 or so members, who will start voting on Thursday, have a choice between acting leader and former cabinet minister Sir Ed Davey and rising star Layla Moran.
Whoever wins will become the fourth permanent Lib Dem leader in the past five years and take over a party still re-grouping after being chastened at the ballot box for the third election in a row.
After a Stop Brexit election campaign described afterwards by the party as a "car crash", the Lib Dems ended up with 11 MPs in December, one fewer than in 2017, and without a leader after Jo Swinson's defeat.
Despite her best efforts, and those of her predecessors Vince Cable and Tim Farron, the party has yet to truly recover – in electoral terms – from its trouncing in 2015 after five years in government with the Conservatives.
Ms Moran has said it is "sink or swim" time for the party after "10 years of decline" and it needs to restore "trust and credibility" with voters still angry about its record in government as well as its opposition to Brexit.
But Sir Ed, who served as energy secretary under David Cameron, said there were no "quick fixes" for the party and it had to rebuild from the ground-up.
A new study by think tank UK in a Changing Europe – entitled What Next For the Lib Dems? – warns that their current electoral position might possibly be as good as it gets for what used to known as the "third party" in British politics.
'Risk of paralysis'
The influential research body says the party's post-2015 levels of representation in the Commons – which excluding defections have ranged from eight to 13 – bear a clear resemblance to those achieved by the old Liberal Party in the 1950s through to the 1970s, and risk becoming the "new normal".
"In short, while they may escape extinction, long-term paralysis looks like a distinct possibility," say the report's authors, Professor Tim Bale, Aron Cheung and Dr Alan Wager.
Ms Swinson's shock defeat in East Dunbartonshire was another painful reminder for the party that – unlike the Conservatives and Labour – it does not have any safe seats in Westminster.
Image copyright EPA Image caption Jo Swinson's brief leadership promised so much but ended in disappointment
But the research also hints at a more promising outlook for the Lib Dems than the headline numbers suggest and grounds for optimism for whoever wins the leadership contest.