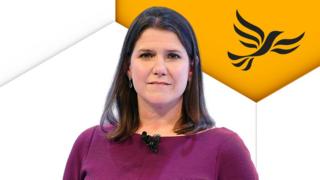 The Liberal Democrats have launched their 2019 election manifesto, with the slogan Stop Brexit Build A Brighter Future. It sets out the polices the party aims to introduce should it win the election.
The full document runs to 96 pages and contains pledges on a variety of subjects, with Brexit and the NHS to the fore. But what are the promises that will grab the public's attention, and, potentially win over voters on polling day, 12 December?
1. Stop Brexit
Article 50 would be revoked and Brexit cancelled.
There is no mistaking the Liberal Democrats' central appeal to voters. The words "STOP BREXIT" appear in large capital letters on the front of the manifesto.
Uniquely among UK-wide parties, the Liberal Democrats are promising to revoke Article 50 immediately – and stop Britain leaving the EU without another referendum.
The pledge stands out from Labour, who would offer another vote, and the Conservatives, who are promising to leave the EU in January.
The Liberal Democrats believe the clarity of this approach won them votes during the European elections – and can be a vote-winner again.
It also underpins their plans to increase public spending – the Liberal Democrats say staying in the EU would deliver a £50bn "Remain bonus" to the economy – money that could be spent on public services.
2. A penny on income tax for the NHS
Raise £7bn a year over five years – a total of £35bn – to spend on the NHS and social care.
The Liberal Democrats' one penny in the pound extra on income tax will, according to the manifesto, be ring-fenced to be spent on the NHS and social care.
But this is a vague concept and simply means the party has promised £7bn a year more for health and social care and identified how the revenue might be raised. It will be hard to track precisely how the money is spent.
Longer term the party wants to move to a dedicated Health and Care tax. This is called "hypothecation" and has been advocated in the past to reassure voters their money is key to public services.
The big problem is that in an economic downturn the tax receipts might fall, and, if so, would the government feel obliged to cut health and care spending?
If the Treasury was obliged to top up funding from the central pot, the benefits of hypothecation would be lost.
Scotland, Wales and Northern Ireland all run their own health services, but they will also benefit from any extra funding.