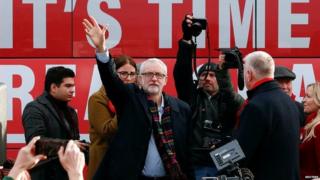 Image copyright Reuters Image caption The report suggests many ex-Labour voters felt the party "looked down on people who disagreed with it"
A new opinion poll has thrown fresh fuel on the debate about why Labour suffered such a heavy defeat in December's general election.
A number of post mortems are already under way into the result, which left Labour with the lowest number of seats since 1935.
Labour's own internal review, leaked to the Financial Times, points the finger of blame at divisions over the party's Brexit policy – and dismisses criticism of its "radical" manifesto and leader Jeremy Corbyn.
The four contenders to replace Mr Corbyn as leader have each given their own version of what went wrong.
Now Lord Ashcroft – the millionaire former deputy of the Conservative Party – has weighed in.
His poll of more than 10,000 people, including 18 focus groups in seats Labour lost, suggests the party's muddled stance on Brexit was a major factor in its defeat.
But the most popular reason for deserting Labour for the Conservatives or Lib Dems was "I did not want Jeremy Corbyn to be prime minister".
More than half of those surveyed for the Diagnosis of Defeat, Labour's Turn to Smell the Coffee report said not believing Labour would be able to deliver on its promises – and no longer feeling the party represented them – also played a part.
The report's conclusions echo those from YouGov's polling of 500 people shortly after the 2019 election, which identified the party leadership and Brexit as the two most important factors in voters turning away from Labour.
Lord Ashcroft is not a member of the British Polling Council, which sets standards for the industry.
But his polls are closely watched at Westminster because of the size of them and the fact that they are carried out at constituency level, something of a rarity in British polling.
He said some on the left were bound to dismiss his findings because he is a Tory, but he said he wanted a strong opposition party, adding: "You don't have to trust me – just listen to what real voters have to say in the research."
Voters who deserted Labour for the Lib Dems or the Conservatives were asked by Ashcroft's researchers to select from a list of reasons:
53% selected Jeremy Corbyn' leadership
30% referenced said they wanted to "get Brexit done" – a key Conservative pledge
Three-quarters of those who switched to the Conservatives said keeping Mr Corbyn out of No 10 was the reason
73% of Labour to Tory switchers said they wanted to "get Brexit done"