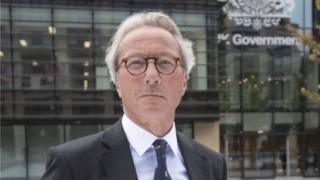 Image copyright PA Media Image caption Lord Keen quit on Wednesday after five years as advocate general for Scotland
The leader of the Scottish Conservatives has insisted that the UK government will be able to find a new senior law officer for Scotland.
Lord Keen quit as advocate general on Wednesday over new post-Brexit legislation which ministers admit would break international law.
There have been claims that the government may struggle to find anyone willing to replace him.
But Douglas Ross said he believed there would be a "number of good candidates".
In his resignation letter to the prime minister, Lord Keen said he had "found it increasingly difficult to reconcile" his obligations as a lawyer with provisions in the Internal Market Bill which would allow the government to override parts of the UK's Brexit deal with the EU.
It subsequently emerged that Downing Street had reached a compromise deal with some Tory MPs who had similar concerns about the legislation and who were threatening to rebel.
The government had already seen the departure of the head of its legal Department, Sir Jonathan Jones, who quit last week as the bill was announced.
In an editorial published earlier this week, the Scottish Legal News website said that anyone defending the bill was endorsing "reckless and lawless behaviour that will tarnish Britain's reputation and ultimately that of those associated with it."
And SNP MP Joanna Cherry has said she believed the prime minister would therefore "find it hard to find anyone of suitable seniority at the Scottish Bar" who was willing to replace Lord Keen.
The advocate general is the chief legal adviser to the UK government on Scots Law.
Speaking to the BBC's Good Morning Scotland programme, Mr Ross said he was confident there would be a "range of very good candidates" and dismissed suggestions that the UK government would not be able to fill the vacant post.
Image copyright PA Media Image caption Douglas Ross backed the bill when MPs voted on it for the first time on Monday
Mr Ross, who voted in favour of the bill on Monday, added: "I do not believe that is a situation we will get ourselves in – there will be another advocate general for Scotland.
"I believe there are a number of people qualified to replace Lord Keen.
"He has done an excellent job in government, it is an important role and I think there will be a number of good candidates for the government to look at to replace him as advocate general for Scotland."