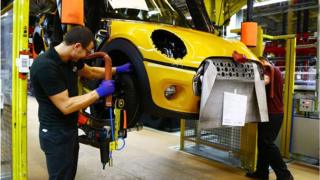 Image copyright Getty Images Image caption Car manufacturers are worried
The UK's biggest manufacturing lobby groups are calling for more clarity as efforts to establish a new post-Brexit trading relationship gather pace.
Yesterday, ahead of Britain's departure from the EU on Friday, representatives of business organisations met the senior cabinet minister Michael Gove to express their concerns.
"It's clear that government are serious about engaging with industry," said the chief executive of the Food and Drink Federation, Ian Wright.
"It was constructive and encouraging," said another participant in the meeting, "but the detail is still being established."
So what has the government said it wants?
"We want to have as close as possible a relationship with the EU – and the approach we want to take is built on the relationship that they have with Canada," Mr Gove told the BBC.
And Boris Johnson has talked repeatedly about getting a "zero tariff, zero quota" trade deal agreed before the end of the year, when the post-Brexit transition period runs out.
Bare minimum?
That is certainly possible, but it's a very tight schedule.
"I don't know if it's doable, but we're up for it," said Mike Hawes, the chief executive of the Society of Motor Manufacturers and Traders, which lobbies for the car industry.
"We need to be up for it, we can't afford to get to the end of this year and not have a trade deal," he insisted. "That would be a major threat to our future here in the UK."
Manufacturing may not be the economic force it once was across the UK, but it still employs several million people.
Now the UK's seamless trading relationship with the rest of the Europe is about to change, and that's why many industry leaders are a little nervous.
While a "zero tariff, zero quota" deal sounds good, it is the bare minimum many manufacturers require.
Image copyright Getty Images Image caption Will the prime minister secure a good deal for food manufacturers?
"What we have now is exclusion from a whole range of checks," said Mr Wright, "on animal health, on customs, checks on lorry drivers and so on.
"Behind a basic 'zero tariff, zero quota' deal would be a whole load of new friction that would add cost, delay and difficulty in doing business."
There are several issues to consider.
The EU is insisting that the UK sign up to strict rules on fair competition to prevent its companies undercutting their European rivals.
"Without a level playing field on environment,