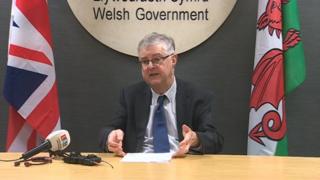 Image caption Mark Drakeford said he anticipates his government's advice on the EU 'would not have changed'
Mark Drakeford has said his government could campaign to stay in the EU if the matter was put again to the public in a new referendum.
But the new Welsh First Minister's support for a fresh poll remains conditional on Theresa May's deal failing to pass MPs, and no election happening.
That is despite party colleagues calling for him to campaign for a vote.
An open letter said it is the only way to move past the Brexit impasse.
Meanwhile more than half of Wales's 40 MPs have signed a letter calling on the Prime Minister to rule out a "No Deal" Brexit.
In total, more than 200 MPs have signed the cross-party letter. They include 21 Welsh labour MPs and four from Plaid Cymru.
MPs were due to vote in December on a deal negotiated by the UK government with the European Union, but ministers pulled the vote in the face of substantial parliamentary opposition to the deal.
Government sources told the BBC on Monday the vote will now take place on 15 January.
In his first press conference as first minister, Mr Drakeford said: "I'm happy for the sake of the argument to assume for a moment that on such a ballot paper there would be a choice of remaining in the European Union
"The advice of the Welsh Government in the first referendum was that Wales' future was best secured through continued membership of the European Union. I don't think we would have changed our minds about that advice.
"So if we were in a position of saying to people in Wales what we as a government thought the right answer would be if staying in the European Union was on the ballot paper in a referendum, I would anticipate, and anticipate pretty strongly that our advice would not have changed."
Mr Drakeford said he was "not opposed" to a further referendum.
Image copyright Getty Images Image caption The Welsh Government politicians campaigned to remain in the EU at the last referendum
But, sticking to Labour party policy, he said: "There has to be a sequence of events."
"It is still not too late for Mrs May to do a deal that could command the support of the House of Commons," he said.
"If there is no agreement in the House of Commons and no general election, then I don't see any alternative but to go back to the public and ask them to decide."