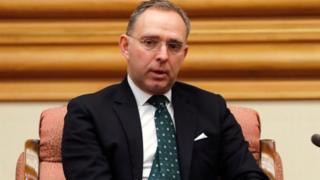 Image copyright Getty Images Image caption Sir Mark said it had been a privilege to have served in "extraordinary times"
Boris Johnson has dismissed criticism of the departure of the UK's top civil servant, saying the timing of Sir Mark Sedwill's exit was "very logical".
Labour have said the PM should focus on the economic crisis facing the country rather than "moving out" top officials.
Sir Keir Starmer said the decision showed the PM had the wrong priorities.
But the PM said Sir Mark "wanted to move on" and now was a sensible time since he had seen the UK through "the most difficult part" of the pandemic.
"Mark has done a huge amount," he said on a visit to west London. "He did a change of premiership, did Brexit, he's managed the country though the most difficult part of the coronavirus crisis."
Sir Mark is to stand down as the UK's top civil servant in September and will also relinquish his role as national security adviser to the prime minister.
The PM's chief Brexit negotiator David Frost, who is not a civil servant, will take over as national security adviser. It has been criticised by Lord O'Donnell, who was a top adviser to Tony Blair, Gordon Brown and David Cameron.
And unions have hit out at what they said were "corrosive and cowardly" briefings against Sir Mark in the press, which suggested tensions between him and the PM's political advisers.
The Labour leader suggested Sir Mark's exit – the latest in a number of top civil servants to stand down since the general election – was badly timed given the UK was in the middle of a health and economic emergency.
"I think it's a question of priorities," he told Radio 4's Today. "We've got an economic crisis just around the corner and what does the prime minister do? He starts moving the cabinet secretary out of his post.
Image copyright Getty Images Image caption David Frost will become national security adviser when the EU trade talks are completed
"Focus on the economic crisis, start preparing a budget, this is a question of priorities."
Sir Mark was handpicked by Theresa May to be cabinet secretary – a role in which he advises on the implementation of policy and conduct of government – Sir Jeremy Heyward's death in November 2018.
Ministers have said the process for choosing his successor will be thorough, with senior civil servants currently running departments or with experience of doing so encouraged to apply.
Potential candidates include Simon