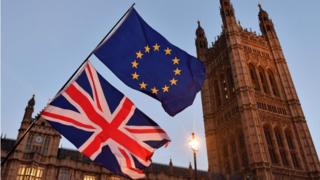 Image copyright AFP
A government bid to find a compromise to win over rebels before the Commons Brexit vote has run into criticism.
A Tory backbench amendment – understood to have No 10's backing – offers MPs more of a say over the contentious issue of the Northern Ireland backstop.
DUP leader Arlene Foster dismissed it as "legislative tinkering" while Tory Brexiteers said it was "desperate".
Many MPs have expressed concerns about the backstop, aimed at preventing a "hard border" on the island of Ireland.
It would mean Northern Ireland staying aligned to some EU rules, which many MPs say is unacceptable.
The UK would also not be able to leave the backstop without EU agreement.
Cabinet ministers are travelling around the UK on Friday as Theresa May continues to seek support for her Brexit deal.
The withdrawal deal negotiated between the UK and EU has been endorsed by EU leaders but must also be backed by Parliament if it is to come into force.
MPs will decide whether to accept it next Tuesday, but dozens of Tories are expected to reject it, as will the DUP, whose support keeps Mrs May's government in power.
Will May's suggestion win over any Brexiteers?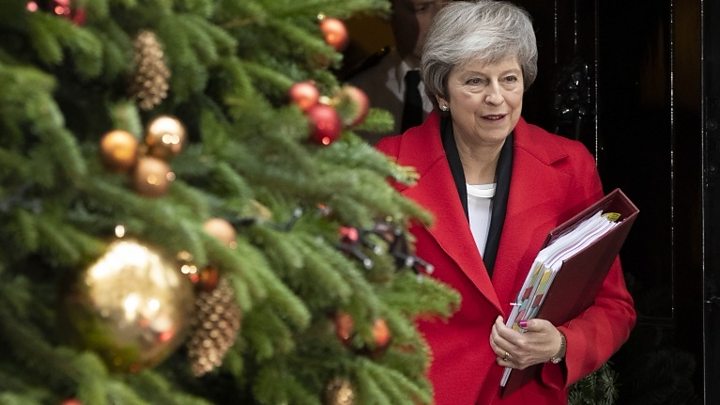 Media playback is unsupported on your device
Media captionBrexit: Can Theresa May win over MPs
By Laura Kuenssberg, BBC political editor
What Theresa May sketched out on Thursday was the idea of allowing MPs to choose when and if they want to go into the controversial "backstop" – the insurance policy against a hard border on the island of Ireland.
Clearly, to try to get some angry Brexiteers to change their minds, the PM is trying to give a sense that they might have more of a say.
They could, as the agreement already suggests, just extend the "transition period", giving the two sides longer to come up with a free trade deal that would mean the dreaded backstop is never used.
It's not surprising that MPs would have a vote on that. But Number 10 clearly hopes it will give some grumpy MPs a sense that they will have more of a say, introducing another layer of decision-making so that the backstop can be avoided.
The prime minister has suggested that MPs could be "given a role" in deciding whether to activate the backstop, and on Thursday night, a Tory backbench amendment was laid down intended to do that.
The amendment –