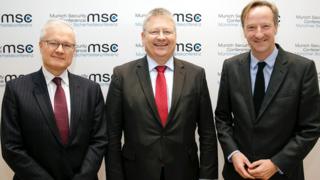 Image copyright Bnd Image caption Earlier this year, Alex Younger, right, joined his French and German compatriots to issue a joint call for continued cooperation after Brexit
The leader of the UK's MI6 intelligence service will warn Russia "not to underestimate our capabilities" in a rare speech later.
Alex Younger will describe how MI6 exposed the perpetrators of the Novichok poisoning in Salisbury.
He will warn that Britain's adversaries view themselves as being in a state of "perpetual confrontation" with the UK.
And he will talk of the need for "fourth-generation espionage", fusing human skills with technical innovation.
At a speech at St Andrews University Mr Younger will encourage students to consider joining MI6, saying tackling modern adversaries who use new technology to probe UK institutions and defences will require "a mindset that mobilises diversity and empowers the young".
In the second public speech by the man known as "C" in the four years since his appointment, Mr Younger is also expected to re-emphasize the importance of strengthening security ties in Europe.
'Active' threat
He will say Britain's spies have thwarted multiple Islamic State plots originating overseas, often in partnership with European allies.
And Mr Younger will talk about facing "adversaries who regard themselves as being in a state of perpetual confrontation" with the UK.
He will urge Russia "or any other sta