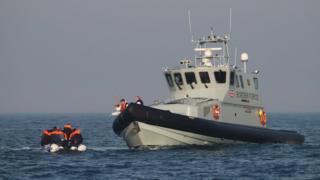 Image copyright PA Media
A group of Conservative politicians has called for tougher action against the rising number of migrants crossing the English Channel.
The 23 Tory MPs and two peers said ministers must do "whatever it takes" to address attempts from migrants to enter the UK using small boats.
More than 4,000 people have successfully crossed the Channel this way so far this year.
Boris Johnson has pledged to work with France to stop channel crossings.
The prime minister said the UK also needed to address current migration laws, which he said made it "very, very difficult" to return people.
More than 700 people were intercepted crossing the English Channel last week, including 235 on Thursday – the record for a single day.
Home Secretary Priti Patel has been in Dover on Monday to meet Border Force staff, a Home Office source has confirmed.
In a letter to Ms Patel, the MPs and peers said the "current surge in illegal immigration must be addressed urgently and radically through stronger enforcement efforts".
"It is strikingly clear that, rather than a 'hostile environment', invading migrants have been welcomed," they wrote.
They added that some migrants had been offered "immediate access to regular payments whilst accommodated at taxpayer expense in expensive hotels."
"All this is relayed to people smugglers and potential economic migrants in France, encouraging and emboldening those intent on facilitating further border crossings."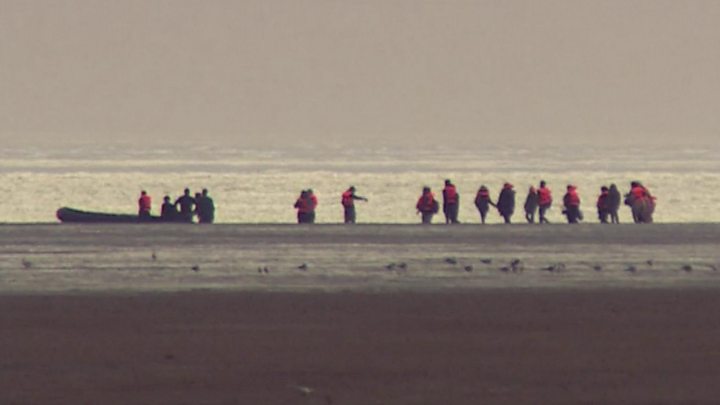 Media playback is unsupported on your device
Media captionMigrants setting out to sea 20 miles east of Calais were filmed by a BBC team on Saturday
The MPs and peers also criticised the EU's Dublin regulation, which states that a person's asylum claim can be transferred to the first member state they entered.
They said its application had seen a greater number of asylum seekers being transferred to the UK from other EU countries then vice versa since 2017.
It said the UK should refuse to sign up to a "similar agreement" for after the post-Brexit transition period is due to end in December.
Instead, they urged the government to negotiate a deal with France to "facilitate the direct return" of those who cross the Channel, and those intercepted in its waters.
The Ministry of Defence says it has sent an RAF Atlas surveillance aircraft to help Border Force operations in the English Channel.
Over the weekend, the Home Office asked defence chiefs for help to make crossings in small boats "unviable".