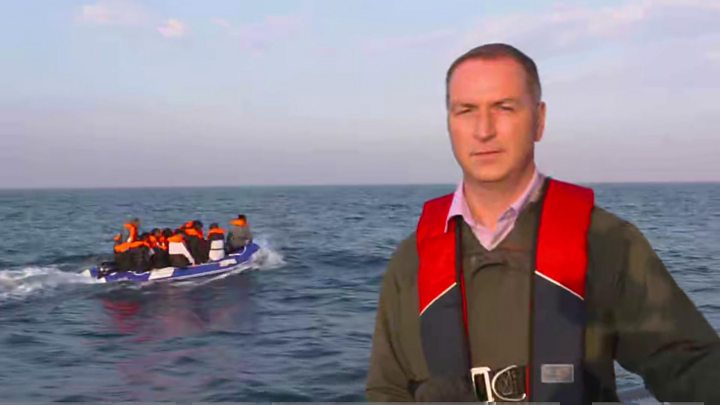 Media playback is unsupported on your device
Media captionThe men and women on the boat told the BBC's Simon Jones they were from Syria
Using Royal Navy ships to help stop migrants crossing the English Channel is "dangerous" and "won't change anything", a Calais politician says.
On Saturday the Home Office asked defence chiefs for help to make crossings in small boats "unviable".
About 20 Syrian migrants in a boat were picked up by Border Force on Monday morning, the BBC's Simon Jones said.
More than 4,000 people have successfully crossed the Channel from France in small boats so far this year.
Pierre-Henri Dumont, the National Assembly member for Calais, told the BBC: "What is the British navy going to do if it sees a small boat? Is it going to shoot the boat? Is it going to enter French waters?
"It's a political measure to show some kind of muscle but technically speaking it won't change anything."
In response to Mr Dumont's comments, a Ministry of Defence (MoD) source said: "To imply that the UK navy would operate outside of UK and international laws and norms is dangerous and misleading.
"The military will support the Home Office in their work to combat Channel crossings."
Image copyright PA Media Image caption The Syrian migrants were picked up by Border Force and taken to Dover
Mr Dumont said the French authorities needed to monitor about 300 miles of coastline if they were to stop migrants launching small boats from French shores.
"We are already trying to do whatever we can. We can't have a camera and police officer every 10 metres."
The MoD says it has sent an RAF Atlas aircraft with spotters on board to help Border Force operations in the Channel.
Skip Twitter post by @DefenceHQ
A @RoyalAirForce Atlas aircraft has been flown from @RAFBrizeNorton this morning to support Border Force operations in the Channel. Authorised by the Defence Secretary @BWallaceMP, the surveillance aircraft is an initial offer of assistance as @DefenceHQ supports @ukhomeoffice.
— Ministry of Defence 🇬🇧 (@DefenceHQ) August 10, 2020
End of Twitter post by @DefenceHQ
Home Secretary Priti Patel has been in Dover on Monday and was seen disembarking from a police boat that had been in the English Channel earlier in the morning.
A spokeswoman said it was a "private visit" and the Home Office would not be commenting on the reasons for her being there.
Analysis:
Helen Catt, BBC News
Since the demolition of the infamous "Jungle"