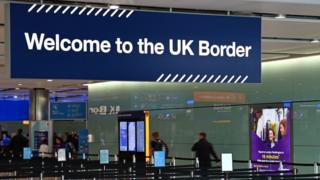 Image copyright AFP/Getty Images
The government should drop the salary threshold for immigrants by more than £4,000, a committee has advised.
Skilled migrants from outside the EU currently need to have a job offer with a minimum salary of £30,000.
But the Migration Advisory Committee (MAC) said it should fall to £25,600 for all workers to help recruit teachers and skilled NHS staff.
The committee's chair also called Boris Johnson's proposal for a new points-based immigration system a "soundbite".
Mr Johnson said he wanted a scheme, based on Australia's system, during his summer campaign to lead the Conservative Party, and he made it a key pledge during the election.
Professor Alan Manning said that while he recognised politicians needed "cosmetic" means of presenting complex topics to the public, it was unclear what the government meant when it had repeatedly used the phrase.
The outgoing chairman said: "No perfect system exists and there are unavoidable, difficult trade-offs."
A Downing Street spokesman said the government was "grateful" for the report, but did not say if it would adopt the recommendations.
He added that the government would "introduce a firmer and fairer points immigration system from 2021, bring overall numbers down and introduce a fair, firm and compassionate system in line with what the British people want".
How does immigration work now?
Image copyright AFP/Getty Images Image caption There are a range of visas in the current system
As part of the European Union, anyone from other member states – or from the European Economic Area (EEA) – can come to the UK to live or work without a visa.
For those outside the EU, there are a range of visas they can attempt to qualify for.
One of them is the Tier 1 or "exceptional talent" visa – a points based system for highly qualified people who need to be endorsed as a leader or emerging leader, but do not need a job offer – capped at 2,000 offers a year.
Another is the Tier 2 (general) visa – where the applicant has to match exact criteria, including having a job offer with a minimum salary of £30,000.
There is also a Tier 2 (general) visa with a lower salary threshold if the applicant is on the so-called Shortage Occupation List, which includes nurses and engineers.
Why was there a review of the immigration system?
Image copyright AFP/Getty Images Image caption Priti Patel and Sajid Javid have both asked the MAC for reviews
Theresa May's government announced a look at changes to the immigration system based on skills in December 2018.