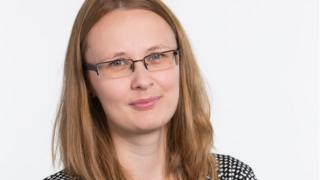 Image copyright Gus Campbell Photography/Labour Party Image caption Labour MP Cat Smith said she was "deeply disappointed" she needed to cancel the meeting
An MP has cancelled a public meeting to discuss Brexit due to security concerns over "far-right extremists".
Cat Smith, Labour MP for Lancaster and Fleetwood, said she was "deeply disappointed" about having to cancel the event in Fleetwood.
Posting on Facebook, she said: "I've been warned far-right extremists were planning action around this meeting."
Lancashire Police said the decision to cancel was "a matter for the MP and her office".
'Safety priority'
Ms Smith thanked everyone who had registered to attend the meeting, due to take place on Friday, and apologised for inconvenience caused by the cancellation.
She added: "I was really looking forward to seeing many of you there but unfortunately I've been advised to cancel the event due to concerns over security."
"I'm deeply disappointed that I have to take this decision but the safety of my constituents, my team and my family has to take priority," the MP said.
Image copyright Facebook Image caption The MP made the announcement on Facebook
A Lancashire Police spokesperson said: "Lancaster and Fleetwood MP Cat Smith had arranged a number of public meetings and had asked for a policing presence because of a perceived threat.
"A proportionate, low-key plan was put in place. Any decision to cancel i