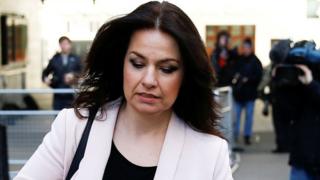 Image copyright Reuters Image caption MP Heidi Allen was the target of malicious communications
An MP who was sent death threats "related to Brexit" said the messages had "shaken her to the core".
Heidi Allen, South Cambridgeshire MP and interim leader of the Independent Group, was one of seven MPs targeted by Jarod Kirkman.
It made her feel "very vulnerable", she said, but did not cause her to question her role as an MP, adding: "I will not be bullied."
Kirkman has admitted sending malicious communications and awaits sentencing.
Ms Allen, who quit the Conservatives to join the Independent Group in February, said Kirkman's threats were not the only abusive messages she had received.
'They'll find you'
"The language is always very cryptically and craftily worded – you know, 'we're coming for you, we won't tell you when or how' – and when something like that just pops into your inbox… it shakes you to the core, particularly when you don't know where it's come from, or whether that person is 10 yards away or 100 miles away – you just have no idea and you just feel very, very vulnerable."
Asked whether she felt Brexit had "tipped some people over the edge", she said she did not pretend to