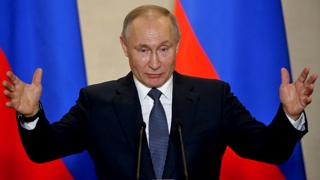 Image copyright Getty Images
The UK government "actively avoided" looking for Russian interference during the EU referendum, says a group of MPs.
The Intelligence and Security Committee's long-awaited report said the government was "playing catch-up", despite evidence of interference in the Scottish independence referendum.
Its report called for "immediate action" by government and intelligence agencies to tackle the threat.
The Russian Foreign Ministry called the report "Russophobia".
The UK government rejected the committee's call for a full assessment by intelligence agencies of potential Russian meddling in the 2016 referendum, saying it had "seen no evidence of successful interference".
And No 10 denied the claim it had "badly underestimated" the threat from Russia.
Foreign Secretary Dominic Raab tweeted: "We've been clear that Russia must desist from its attacks on the UK and our allies.
"We will be resolute in defending our country, our democracy and our values from such Hostile State."
The ISC's inquiry covers a number of topics, including disinformation campaigns, cyber tactics and Russian expatriates in the UK – saying the UK was a "top target" for the state.
But much of the "highly sensitive" detail will not be published due to fears Russia could use the evidence to threaten the UK.
Committee members also criticised No 10 for the delay in the report's publication – seven months after it was submitted to No 10 to sign off.
Downing Street was accused of holding back the report ahead of December's UK election and for delaying its nominations to set up the new committee – both claims it has denied.
But speaking at a press conference to launch the report, one of the ISC's committee members, Kevan Jones, criticised Boris Johnson for not signing it off sooner, saying there was "no reason for delay".
The ISC's former chair, Dominic Grieve – who pushed for the report to be published before the election – told BBC News his pleasure at seeing it come to light was "mitigated by a sense of frustration and bluntly anger at the way the government behaved".
Labour's shadow foreign secretary Lisa Nandy accused the PM of taking a "political decision" to block the report.
She added: "The government has underestimated the response required to Russia and it is imperative we learn the lessons from the mistakes that have been made."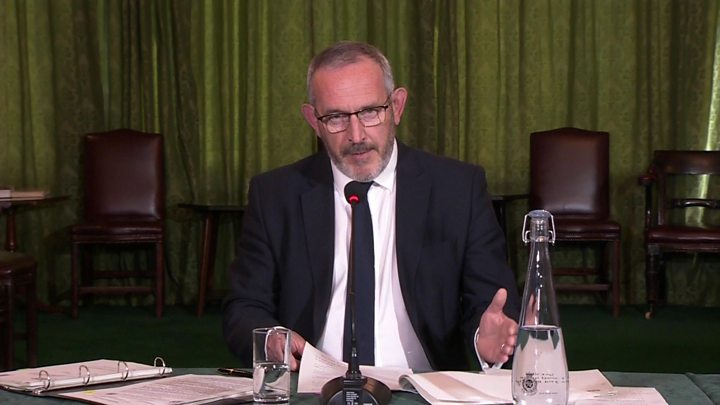 Media playback is unsupported on your device
Media captionStewart Hosie MP says the government "actively avoided" investigating possible Russian interference in the EU referendum
The committee said Russian influence in the UK was now "the new normal"