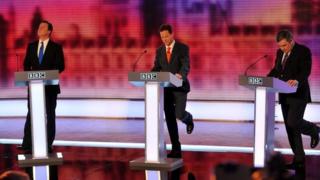 Image caption TV history was made in 2010, but there were fewer at subsequent elections
A petition calling for leaders' TV debates to become a "regular fixture" during general elections is to be discussed in Parliament.
MPs will debate the petition on Monday, after it secured the 100,000 signatures required for it to be considered.
It calls for an independent commission to be set up to take things "out of politicians and broadcasters' hands".
Three debates were held in 2010 but numbers have dwindled since and Theresa May declined to participate in 2017.
The then home secretary, Amber Rudd, stood in for the PM during the 2017 campaign, going up against Jeremy Corbyn and the leaders of six other parties.
The petition, which has attracted 133,000 signatures, will be discussed in Westminster Hall, the Commons' secondary debating chamber.
It calls for electoral law to be changed to require party leaders to take part in at least one debate.
It states that "an independent debates commission would take decision-making out of the politicians and broadcasters' hands and ensure TV debates become a regular fixture".
The government said debates were a matter for political parties and proposals for an independent arbiter, as has existed in the US for many year