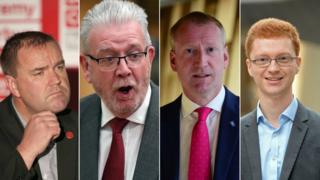 Image copyright PA/Getty Image caption MSPs Neil Findlay, Mike Russell, Tavish Scott and Ross Greer have drawn up the joint motion.
The wording of a Holyrood motion rejecting the UK government's draft Brexit deal has been revealed.
MSPs are set to declare the deal would be "damaging for Scotland and the nations and regions of the UK".
The SNP, Labour, Greens and Liberal Democrats have drawn up the joint motion for debate at the Scottish Parliament on Wednesday.
The Scottish Conservatives said the only alternative to the prime minister's deal was a "no deal" Brexit.
The debate will come less than a week before MPs at Westminster have their say on the prime minister's proposals in a "meaningful vote" on 11 December.
A vote by MSPs against the draft EU Withdrawal Agreement will not stop the deal from going through, but it will become the formal position of the Scottish Parliament.
The motion states: "Parliament agrees that both a no-deal outcome and the outcomes arising from the withdrawal agreement and political declaration setting out the framework for the future relationship between the European Union and the United Kingdom as presented to the House of Commons by the prime minister would be damaging for Scotland and the nations and regions of the UK as a whole and therefore recommends that they be rejected and that a better alternative be taken forward."
The debate follows talks between Constitutional Relations Secretary Mike Russell, Labour Brexit spokesman Neil Findlay, Ross