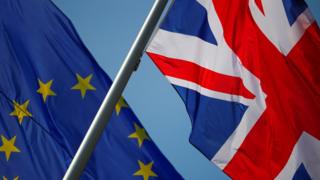 Image copyright Reuters
The government will introduce a new law that could change post-Brexit customs plans with the EU – but No 10 denied it would "tear up" the existing treaty.
The two sides agreed in 2019 on the terms of the UK's exit, including on future trade in Northern Ireland.
Reports suggested a new law could "override" the legal force of that deal – the withdrawal agreement.
But Downing Street said it would only make "minor clarifications in extremely specific areas".
No 10 confirmed the new UK Internal Market Bill will be published on Wednesday.
The EU said the "full implementation" of the withdrawal agreement was a "prerequisite for the negotiations on the future partnership" between the bloc and the UK.
The news comes at the start of another week of negotiations on that future trade deal.
The so-called transition period – which has been in place since the UK left the EU in January – will end on 31 December and the two sides are trying to secure an agreement to take its place.
But Boris Johnson said if a deal was not reached by the European Council meeting on 15 October, both sides should "move on" – meaning the UK would go on to trade with the bloc on international trading terms.
Labour's shadow Northern Ireland secretary, Louise Haigh, said if the government's latest moves were negotiating tactics, they were not "very effective".
She told BBC News: "It undermines all the progress that's been made over the last several months and completely jeopardises a future trading relationship."
What had the UK and EU agreed?
Image copyright Downing Street Image caption Boris Johnson signed the withdrawal agreement in January
The two sides signed off on a withdrawal agreement last year ahead of the UK leaving the bloc on 31 January.
The document covered a number of areas, from how much the UK would have to pay for its "divorce bill" through to intentions for a future relationship.
But one of the biggest sticking points throughout negotiations had been how to handle the issue of Northern Ireland.
Both the UK and EU sides were committed to protecting the peace process in the region and preventing any reintroduction of border checks on the island of Ireland.
But they also accepted the land border between Ireland and Northern Ireland would become the UK's border with the EU, so customs rules needed to be respected and adhered to.
The UK and EU settled on the Northern Ireland Protocol.