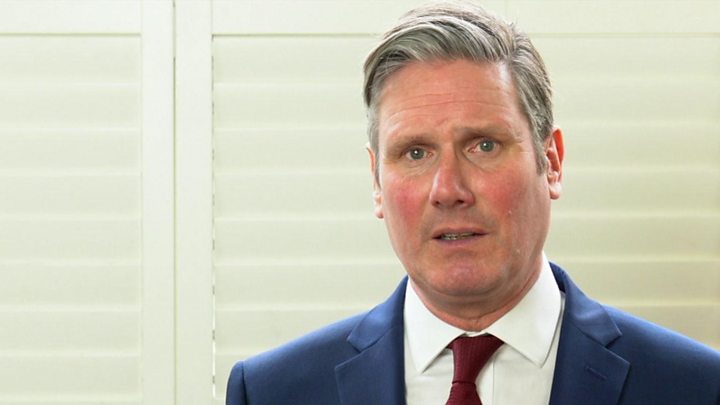 Media playback is unsupported on your device
Media captionThe new Labour leader recorded a video where he spoke of the "honour" of the post and the effect of coronavirus
Sir Keir Starmer has vowed to lead Labour "into a new era with confidence and hope" after decisively winning the contest to succeed Jeremy Corbyn.
The 57-year old defeated Lisa Nandy and Rebecca Long-Bailey in a ballot of party members and other supporters.
The lawyer, who became an MP in 2015, won on the first round of voting, with more than 50% of ballots cast.
After his victory, Sir Keir spoke to PM Boris Johnson and agreed to meet next week to discuss the coronavirus crisis.
In a video message released by the Labour Party, Sir Keir promised to work constructively in opposition and said he hoped Labour "when the time comes can serve our country again – in government".
And he apologised for the "stain" of anti-Semitism that has tainted Labour in recent years. He pledged to "tear out this poison by its roots" and said his success would be judged on whether former Jewish members return to Labour.
The full results of the leadership contest were:
Sir Keir Starmer – 275,780 votes (56.2%).
Rebecca Long-Bailey – 135,218 votes (27.6%)
Lisa Nandy – 79,597 votes (16.2%)
Just over 490,000 people voted, out of the 784,151 eligible to take part in the three-month contest triggered by Mr Corbyn's decision to step down after Labour's heavy defeat in last year's general election.
Sir Keir won a majority in every section of Labour's selectorate, including 78% of the 13,000 registered supporters who paid a one-off £25 fee to take part.
Coronavirus crisis
Meanwhile, shadow Education Secretary Angela Rayner has been elected deputy leader, replacing Tom Watson, who stood down as an MP before the election. She defeated four other candidates but the contest was much closer, going to a third round of voting.
The 40-year old Ms Rayner beat Rosena Allin-Khan and Richard Burgon in a third round of voting, after fellow MPs Ian Murray and Dawn Butler had earlier been eliminated.
Saturday's result was announced by e-mail after plans for a public event were dropped due to the coronavirus crisis.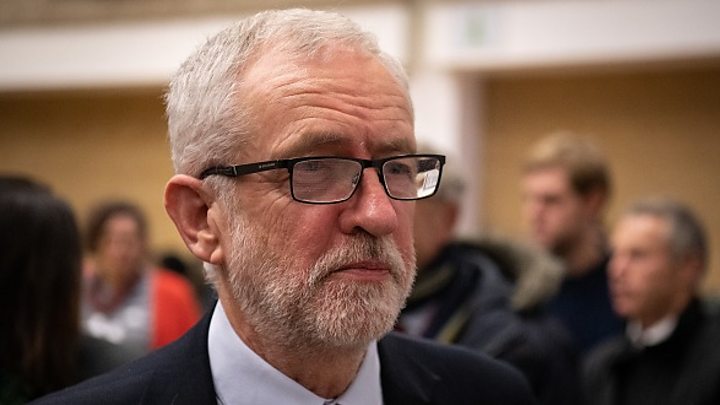 Media playback is unsupported on your device
Media captionJeremy Corbyn's Labour leadership in two minutes
Sir Keir has described himself as a socialist but not a Corbynite, and vowed to keep key policies from the Corbyn era,