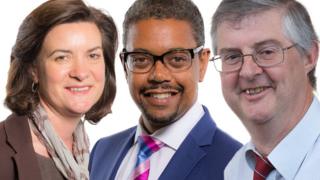 Image copyright NATIONAL ASSEMBLY/BBC Image caption Three candidates (left to right) are in the running – Eluned Morgan, Vaughan Gething and Mark Drakeford
The new leader of Welsh Labour – and the person set to become Wales' next first minister – will be announced later.
Three candidates – Eluned Morgan, Vaughan Gething and Mark Drakeford – are hoping to replace Carwyn Jones, who stands down next week.
Labour officials will reveal the election result in Cardiff on Thursday.
It follows a year in Welsh politics marked by the death of former minister Carl Sargeant.
Mr Sargeant was found dead in November 2017, days after the first minister sacked him from his cabinet over allegations of inappropriate behaviour towards women.
Mr Jones said he had been through the "darkest of times" when he announced his intention to quit in April.
About 175,000 people – party members and members of affiliated groups including trade unions – have been able to take part in the Labour poll, which closed last Monday.
The winner will be Welsh Labour leader-elect until Carwyn Jones resigns next week, and will become the next first minister after confirmation by the assembly on Wednesday.
They will lead the Welsh Government, which has responsibility for health, education, local government, transport and some taxes in Wales, among other areas of policy.
At the conclusion of the contest, all four party groups represented in the Welsh assembly – including the Welsh Conservatives, Plaid Cymru and UKIP – will have changed leader during 2018.
Analysis
By Felicity Evans, BBC Wales political editor
Image caption Carywn Jones announced his intention to stand down in April
This has felt like a long leadership contest.
Carwyn Jones's announcement of his departure was precipitated by the death of his former cabinet minister.
By now, Carwyn Jones had hoped the trilogy of inquiries he set in motion in the wake of Mr Sargeant's death would have been completed. In fact the most important, into to how he handled the sacking, is yet to start.
The winner of today's contest will need to heal Welsh Labour of the divisions that emerged from the tragedy of Mr Sargeant's death – divisions which can only have been deepened by last week's inquest, which itself is yet to conclude.
And if that wasn't enough, the winner takes over at a time of unprecedented change. They will have new powers over income tax. They will face an imminent Brexit and the chaos of the power struggle at Westminster.