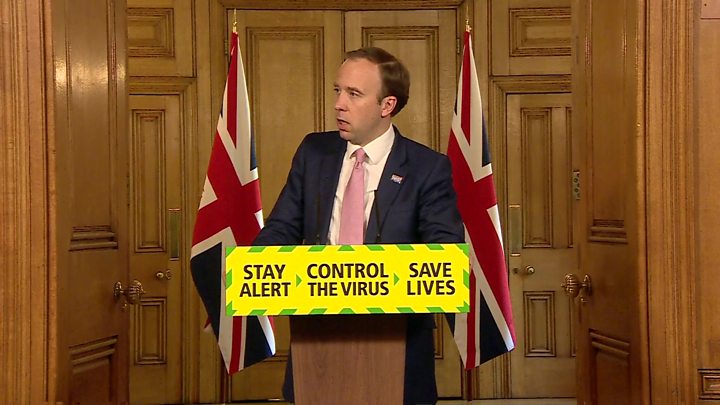 Media playback is unsupported on your device
Media captionMatt Hancock was asked whether the PM changed his mind on the fees
NHS staff and care workers from overseas will no longer have to pay an extra charge towards the health service after mounting pressure from MPs.
Boris Johnson's spokesman said the PM had asked the Home Office and Department for Health to exempt NHS and care workers "as soon as possible".
Labour leader Sir Keir Starmer said it was "a victory for common decency".
The health immigration surcharge on non-EU migrants is £400 per year and set to rise to £624 in October.
The move to grant the exemption came after the PM's spokesman defended the fee earlier on Thursday.
Officials are now working on the detail and more will be announced "in the coming days".
But it is understood the plan will include exemptions for all NHS workers, including porters and cleaners, as well as independent health workers and social care workers.
The chief executive of the Royal College of Nursing, Dame Donna Kinnair, said the charge had created "an unfair and unjust financial burden", adding: "At last the government has agreed with us.
"This will ease the pressure on families who may be struggling financially or emotionally as a result."
Mr Johnson himself stood by the charge on Wednesday, telling MPs he "understood the difficulties faced by our amazing NHS staff", but said the government "must look at the realities" of funding the NHS.
It caused a backlash, with a number of Tory MPs joining opposition MPs in calling for him to reconsider – including the Tory chairman of the Commons public administration select committee, William Wragg, and his backbench colleague Sir Roger Gale.
It all happened pretty quickly.
Just yesterday when the Labour leader Keir Starmer pressed Boris Johnson to change his mind, the prime minister was firm. He was adamant, it was the right thing to stick with the plan.
But overnight, there was disquiet – some chatter among Tory MPs – a few of them breaking cover to say they thought it was the wrong thing to stick with the charge.
And, lo and behold, just after four o'clock this afternoon, Downing Street announced that the prime minister would be thinking carefully.
For the government's critics, of course, it has been portrayed immediately as a screaming U turn.
A way for Downing Street to close down a political row.