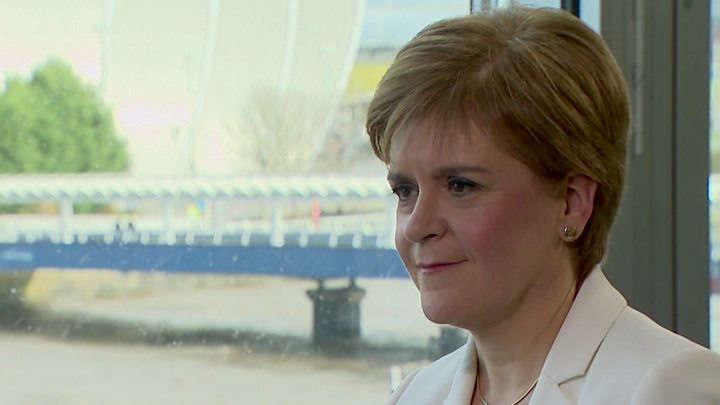 Media playback is unsupported on your device
Media captionNicola Sturgeon told the BBC's Andrew Marr she had the support of "party and of country" to hold her post
Nicola Sturgeon has said she "emphatically" wants to remain as first minister for at least a few years.
Appearing on The Andrew Marr Show, the SNP leader said she believed she had the support of "party and of country" to hold her post.
It comes after party figures told BBC political correspondent Nick Eardley Ms Sturgeon may be in trouble.
She also defended a proposal for a "Scottish visa" system after the UK government unveiled immigration plans.
MSPs would decide the criteria for this new visa, and the Scottish government would receive and assess applications before sending them to the UK government for security checks.
The UK's post-Brexit system, which was announced earlier this week, means that low-skilled workers would not get visas.
'Damaging prosperity'
However Ms Sturgeon's position is that this would cause "devastation" for Scotland's economy as it would reduce the number of people entering the country with "restrictive" border controls.
There are concerns about Scotland's ageing population and shrinking workforce, with the National Records of Scotland projecting that deaths could outweigh births over the next 25 years.
Scottish ministers say this means greater inward migration is needed to boost Scotland's working-age population in particular, and that an end to freedom of movement could threaten this.
In a letter to Number 10 published on Sunday, Ms Sturgeon has called for a meeting with Boris Johnson to discuss immigration policy.
She told Andrew Marr she hopes to take a delegation of sectoral and business leaders to Downing Street to set out arguments for a different Scottish system.
She said: "You have a UK government that has as an expressed objective – reducing the number of people who come into the UK from other countries.
"My point is that that objective – in and of itself – is deeply damaging to Scotland's economy and our future prosperity.
"It will make us poorer and that is why I really want to see this change and for Scotland's interests to be recognised."
The UK government, however, has urged employers to "move away" from relying on "cheap labour" from Europe and invest in retaining staff and developing automation technology.
And the Migration Advisory Committee has said Scotland's needs are "not sufficiently different" from the rest of the UK to justify a "very different" system, with the north of England facing similar issues.