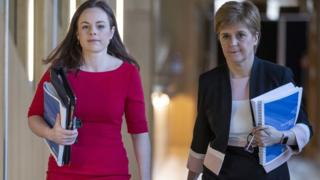 Image copyright PA Media Image caption Public Finance Minister Kate Forbes stepped in to deliver the budget
There will be no changes to income tax rates in Scotland in the coming year, the government has announced.
Public Finance Minister Kate Forbes set out the budget in the place of Derek Mackay, who resigned as finance secretary on Thursday morning.
She announced that tax rates will not increase, although the threshold where the upper rates kick in will be frozen.
And she committed extra funding to health, education and investment aimed at tackling the "climate emergency".
The SNP need votes from opposition parties to pass the budget, and Ms Forbes urged them not to be "partisan".
The build-up to the budget was disrupted when Mr Mackay was forced to quit the government over reports he had sent hundreds of social media messages to a 16-year-old boy.
Junior minister Ms Forbes – a first-term MSP who is aged just 29 – stepped in at the last minute to deliver the speech, and is set to take the lead in talks with opposition parties.
She said the package included "significant investment in our response to the global climate emergency, to strengthen our economy and improve our public services".