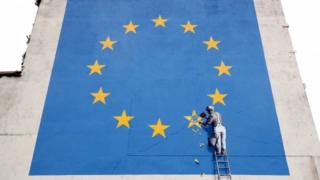 Image copyright PA
The UK government will begin advising people, businesses, and other groups about how to plan for the possibility of leaving the EU without a deal.
Ministers say publication of the first batch of documents will tackle what they call "hair-raising scare stories" about a no-deal Brexit.
They say reaching a deal with the EU is the "overriding priority" but "we must be ready to consider the alternative".
The EU has already produced 68 notices on "Brexit preparedness".
Labour said a no-deal outcome would be "catastrophic" and a "complete failure by the government to negotiate for Britain".
The party's Brexit spokesman Sir Keir Starmer told Radio 4's Today programme the government was "now moving into panic mode" and this latest advice would not reassure anyone.
The UK is due to leave the EU in March 2019, but the future relationship between the two sides has yet to be agreed.
In recent weeks there have been more warnings about what a no-deal outcome might mean for the UK.
In a speech delivered as the advice documents are published, Brexit Secretary Dominic Raab is expected to say a good deal is in sight but "we have a duty, as a responsible government, to plan for every eventuality".
"These technical notices – and the ones that will follow – are a sensible, measured, and proportionate approach to minimising the impact of no deal on British firms, citizens, charities and public bodies," he is expected to say.
Warnings about leaving without a deal have included:
the group representing hospitals and ambulance services in England warning of possible "stockpiles and shortages of medicines and medical devices"
police chiefs warning of a risk to the public if the UK loses access to EU-wide crime databases
the farmers' union saying some farms could be "on the brink of collapse" without frictionless trade after Brexit
Bank of England governor Mark Carney describing a no-deal outcome as "highly undesirable"
Foreign Secretary Jeremy Hunt saying a "messy divorce" would lead to a "fissure in relations between European allies that would take a generation to heal"
Pro-Brexit campaigners have described the warnings as "Project Fear" – saying the UK has nothing to fear from leaving without a trade deal and falling back on World Trade Organization rules.
On Tuesday Mr Raab said: "As you will see when we set out our plans, some of these hair-raising scare stories are very far from the truth and I look forward to explaining the context on Thursday."