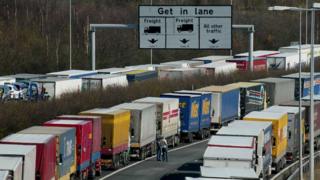 Image copyright PA Image caption Queues of lorries left residents near the Port of Dover unable to get out to buy basic supplies in 2015
Dover and other Channel ports face disruption of up to six months if the UK leaves the EU without a deal, ministers have said.
The revised warning comes after technical analysis by officials on traffic flows if there are delays with customs checks in a no-deal Brexit.
While this is regarded as a worst-case scenario, the public sector is being asked to rewrite its contingency plans.
It comes as ministers step up efforts to sell Theresa May's EU deal.
The PM's repeated claim that the only alternative to her withdrawal agreement is a no-deal Brexit has so far failed to convince enough MPs to avoid defeat in a Commons vote on Tuesday.
Updated advice to government departments from officials warns there could be six months of reduced access and delays at Dover and Folkestone if the UK leaves the EU on 29 March without a deal.
The BBC's health editor Hugh Pym said departments are asking different parts of the public sector to check and if necessary rewrite their contingency plans.
This will include the NHS and a letter is being sent to health leaders by Health Secretary Matt Hancock telling them to check plans for ensuring medical supplies can be secured.
The existing message to the pharmaceutical industry will not be changed.
Current advice is that there should be a six-week stockpile of medicines in the UK to cover the possibility of disruption after a no deal Brexit.
About 90% of medicines imported by the UK and the Republic of Ireland come in through Dover.
Mr Hancock said the NHS should prepare to use alternative routes in the event of disruption on cross-channel routes, including the use of planes to fly in supplies.
'Worst-case'
In his letter, Mr Hancock said the UK could not control whether France and other EU countries chose to impose additional border checks in a no-deal scenario.
If they did, the impact was "likely to be felt mostly on the short straits crossings into Dover and Folkestone, where the frequent and closed loop nature of