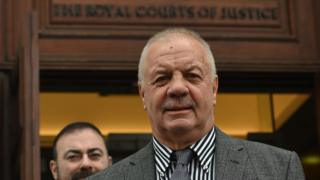 Image copyright PAcemaker Image caption Raymond McCord's son was murdered by loyalist paramilitaries in 1997
A judge at the High Court in Belfast has dismissed a legal challenge against a no-deal Brexit.
One of the three cases brought was by the victims' campaigner Raymond McCord who plans to appeal the decision.
The court heard arguments that a no-deal would have a negative effect on the peace process and endanger the Good Friday Agreement.
But the judge said the main aspects of the case were "inherently and unmistakeably political".
Image Copyright @ChrisPageTV @ChrisPageTV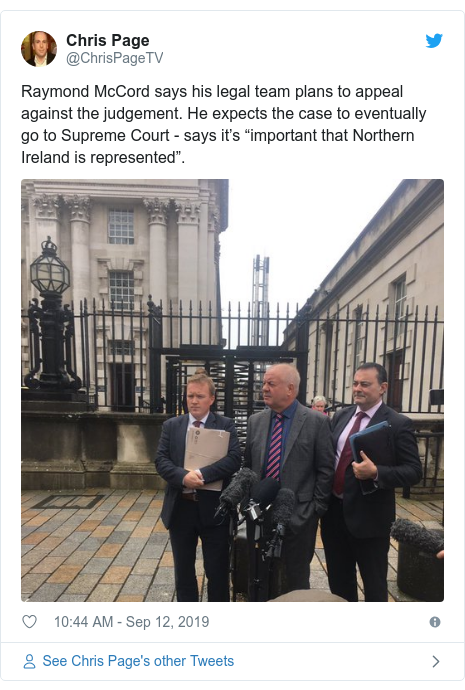 Image Copyright @ChrisPageTV @ChrisPageTV
Report
Lord Justice Bernard McCloskey added that the courts had to "respect certain boundaries".
In his written judgement, Lord Justice Bernard McCloskey added: "Within the world of politics the well-recognised phenomena of claim and counterclaim, assertion and counter-assertion, allegation and denial, blow and counter-blow, alteration and modification of government policy, public statements, unpublished deliberations, posturing, strategy and tactics are the very essence of what is both countenanced and permitted in a democratic society."
He also excluded a challenge against the suspension of Parliament because the issue formed the "centrepiece" of proceedings in England and Scotland.
An appeal hearing is likely to be held on Friday.