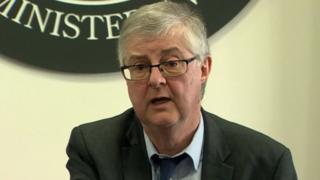 Image caption Mark Drakeford has warned Wales' range of food could decrease in the event of a no-deal Brexit
Wales could see "less variety of food" in the event of a no-deal Brexit, the first minister has warned.
Mark Drakeford said there were products on supermarket shelves now which would not be there after a no-deal – something he called a "genuine risk".
Although the impact would be "devastating" on industries, he said there would not be food shortages.
The Department for Environment, Food and Rural Affairs (Defra) said the UK food industry was "highly resilient".
Speaking to BBC Radio Wales' Sunday Supplement programme, he said there was "no need to panic" but there were "things that you can buy today and not think twice about it, that won't be there in a crash-out Brexit".
Although he did not specify which products would be affected, he added: "That isn't to say there won't be food on the shelves and things people wont be able to buy."
Mr Drakeford said the Republic of Ireland government was under pressure to put checks on goods at the borders if the UK leaves the European Union.
"If the checks lasted 90 seconds, then there would be queues right across the island of Anglesey and onto the mainland," he said.
He added that the "impact of leaving in those circumstances would be very real," particularly to food businesses relying on fresh produce.
"We have been working very hard with supermarkets, particularly on supply chains into further parts of Wales and have had guarantees from them from them those areas will not be disadvantaged."