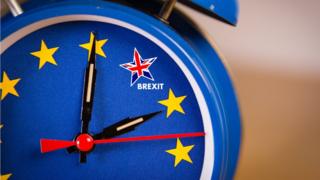 Image copyright Getty Images
European Union (EU) leaders will decide later this week whether to accept the UK's request for a further delay to Brexit.
But if they refuse, then the UK could leave the EU on 12 April with no formal agreement.
So with the clock still ticking, what is the government doing to prepare for a no-deal Brexit?
Operation Yellowhammer
The government's no-deal Brexit contingency plan is code-named Operation Yellowhammer, after a species of bird.
First launched in June 2018, it covers 12 areas including transport, healthcare, energy, food and water.
It is based on worst-case scenario assumptions – delays at the border over a six-month period, increased immigration checks at EU border posts, reduction in choice and availability of food, and potential price increases for utilities, food and fuel.
Operation Yellowhammer isn't the government's only Brexit contingency plan, but sits alongside broader preparations.
This is to "reflect the fact that it would not be possible for departments to plan for every eventuality", according to a report by the National Audit Office (NAO), and that the government would need a way of taking control and quickly coordinating different agencies to handle any short-term disruption.
Through Operation Yellowhammer, the government has been looking at what existing powers it could use to prioritise fuel to essential services or to relax rules limiting the working hours of HGV drivers, for example.
As part the contingency plans, the Ministry of Defence (MoD) has made 3,500 troops, including reserves, available to be deployed if necessary.
It has also set up an operations room in a bunker at its main Whitehall building to coordinate efforts in the event of a no-deal Brexit.
The MoD will not comment on exactly what role the troops could perform, only that they will "support government planning".
Image copyright Getty Images Image caption Theresa May talking to soldiers. The MoD says 3,500 troops will be available to be deployed in the event of a no-deal Brexit if necessary
In its report on Yellowhammer, earlier this month, the NAO said some no-deal preparations might not be ready in time.
For example, the report said the government did not have enough time to put in place all of the infrastructure, systems and people required for fully effective border operations on day one.
The cost of Yellowhammer is part of the £1.5bn allocated by the Treasury to government departments for Brexit preparations.
For Yellowhammer to be effective, the NAO says that the "command, control and coordination" structure needs to be in place ahead of the UK leaving the EU.
So the government could decide to activate Operation Yellowhammer a few days ahead of any potential no-deal Brexit date.