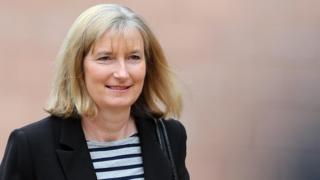 Image copyright PA Image caption Sarah Wollaston is one of two Conservative MPs who make up "the four doctors", says Chris Mason
The People's Vote campaign for a further EU referendum is reaching a critical moment – what is its next move?
Enter the four doctors who also happen to be members of Parliament.
Labour's Dr Paul Williams, Conservative GPs turned MPs Dr Phillip Lee and Dr Sarah Wollaston, and the SNP's Dr Philippa Whitford are carefully pondering their next move.
Messages are zipping between them, trying to work out whether it is worth putting down an amendment to the big Brexit vote in parliament on 11 December, so MPs can express their support for another referendum.
They are protagonists in one of the many sub-plots being whispered about here at Westminster, in a play called "what happens when….?".
A case of timing
The "when" is technically an "if", but feels increasingly likely that the prime minister's vision of Brexit, agreed with the European Union, will be rejected by Parliament next month.
The big question will then be: What happens next?
The honest answer is no one knows.
But that also means the stage will appear to be clear – or as clear as it has been for a long time – for those with alternative visions of the UK's future relationship with the EU to make their case, and try to persuade Parliament to back it.
Image copyright UK Parliament Image caption Dr Philip Lee is said to know it is all about timing
So, back to our four doctors.
I'm told they are in a "genuine dilemma".
Part of them is itching to articulate in Parliament, with a vote, the views of those hundreds of thousands who marched through London calling for a "People's Vote" in October.
But they know they only have one chance and don't want to, as it was put to me, "scupper the whole process" by having a vote in the House of Commons, failing to get the numbers needed to get it through – and allowing opponents to say MPs don't back another referendum.
That, they fear, could kill the idea stone dead.
As text messages ping from Stockton-on-Tees to Totnes, Bracknell to Central Ayrshire, the constituencies of the doctors, they are thrashing out what to do.
Read more:
Their deadline isn't imminent. I'm told an amendment doesn't have to be tabled until 10 December, the day before the vote.