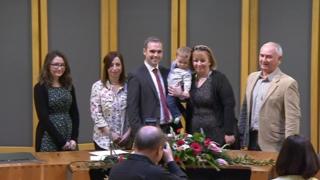 Image caption Steffan Lewis with his family being sworn into the assembly in 2016
One of Wales' youngest assembly members has died at the age of 34.
Steffan Lewis, the Plaid Cymru AM for South Wales East, was diagnosed with terminal bowel cancer in late 2017.
Mr Lewis, who was brought up in Crosskeys and Tredegar in the Gwent valleys, leaves wife Shona and three-year-old son, Celyn.
"He was our rock, he was our anchor and most certainly, our hero. To lose Steff is the greatest possible blow to our family," his family said.
Plaid Cymru said he passed away quietly in Ysbyty Ystrad Fawr in Ystrad Mynach, on Friday.
Party leader Adam Price, Plaid Cymru leader, said the organisation was in a state of shock at losing its "brightest star", while First Minister Mark Drakeford said he was one of the "most decent and able politicians of his generation".
Flags have been lowered at the National Assembly in Cardiff Bay as a mark of respect.
Skip Twitter post by @ElinCeredigion
Such a sad loss of one of our youngest and our best. Steffan Lewis made such an impact in the Senedd – with a caring heart, a charming smile and an intellect the size of Wales.
When Steffan spoke, we all listened. We'll still listen Steffan.
Thoughts now with his dear family. pic.twitter.com/lvlW0iJ2Fy
— Elin Jones (@ElinCeredigion) January 11, 2019
End of Twitter post by @ElinCeredigion
In a tribute, Mr Lewis' family said: "Steff inspired us every day.
"Steff fought this disease with the same courage and determination that he applied to his politics, and even when he was in great pain and discomfort, he continued to serve the people he so dearly loved to represent.
"We know that there are people throughout Wales who share our sense of loss."
Image copyright Plaid Cymru Image caption Steffan Lewis had served the constituency of South Wales East since 2016
His family said they will ensure "his legacy will live on forever – in our community, in our hearts and above all through his son".
"Wales will not forget his contribution and his determination to make a difference to people's lives," they added.
I would like to express my own deep and personal sorrow at the loss of Steffan Lewis AM, one of the most decent and able politicians of his generation.
My thoughts and sympathies are with his wife Shona & young son Celyn at this incredibly difficult time.