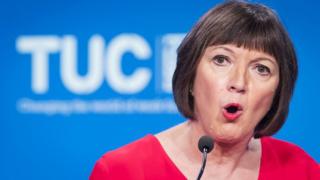 Image copyright PA Media
The head of the UK's unions has warned Boris Johnson she will "get to hear" what goes on in post-Brexit trade talks with the EU, even if the prime minister tries to withhold details from her.
TUC general secretary Frances O'Grady said European leaders were open with their unions, who passed information on and kept her "well plugged in".
She urged the PM to defend workers and not make EU talks a "virility test".
Downing Street promised it would not "weaken" employee protections.
A spokesperson said the government wanted to make the UK "the best place in the world to work" and would maintain "exceptionally high standards".
The UK left the EU on 31 January and has given itself until 31 December to reach a trade deal, during which time most EU rules will continue to apply.
Ahead of talks starting on Monday, the government has said it will not undercut existing workers' rights.
In its pre-negotiation statement it called for both sides to make a commitment "not to weaken or reduce the level of protection afforded by labour laws and standards".
But the UK is demanding the right to diverge from future EU rules, which is set to be a major point of contention in the talks.
Image copyright EPA
Speaking at the TUC's headquarters in London's West End, Ms O'Grady – a Remain campaigner in the 2016 referendum – said she had "real concerns" over Mr Johnson's stance.
"I've asked for a meeting with the prime minister," she said. "We're still waiting to hear."
But the TUC is part of the European Trade Union Confederation, which represents equivalent bodies throughout the EU.
"Very often our sister unions find that their governments tell them much more about what's happening in negotiations on trade with the UK than our government tells us," said Ms O'Grady.
"That gives us a unique perspective, a helicopter view of what's actually going on and ways to take the PR spin out of the substance. We're quite well plugged in."
Ms O'Grady, who became the TUC's first female general secretary in 2013, said she wanted to play a "constructive role" in EU-UK negotiations, adding: "The government needs to wise up and understand that, if there's transparency happening elsewhere, then we'll get to hear about it. So how much better if that was shared with us direct?
"But there's a lot of macho posturing, a lot of hot air and virility-testing going on at the moment. It's a very old-fashioned view of negotiation."