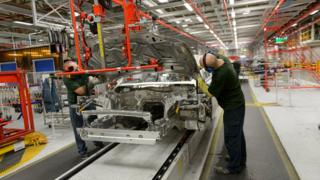 Image copyright PA Media Image caption Cars were the top British export to the US last year, representing 14% of all UK goods exports.
The government has estimated a post-Brexit trade deal with the United States would boost the UK economy by 0.16% over the next 15 years.
The figure is included in a 180-page document setting out the UK's negotiating position for talks, expected to begin later this month.
The document pledges to maintain maintain food standards and stresses that the NHS is "not on the table".
It comes as separate trade talks with the EU get under way in Brussels.
The UK government said a US deal should seek to lower import taxes, or tariffs, on many UK exports – and increase trade in services.
It says an agreement would increase the UK's gross domestic product (GDP) by between 0.07% and 0.16%, depending on the exact terms of the deal.
Financial services
The estimate is based on a model developed by the government in November 2018 when it predicted various post-Brexit scenarios.
That model estimated that UK GDP would fall by 7.6% over 15 years if the government failed to reach a trade deal with the EU.
The UK's strategy document said a deal should also seek to boost trade in digital services, and make it easier for UK professionals to work in the US, and vice versa.
The UK will aim to lower trade barriers faced by British car manufacturers, ceramics makers and producers of products such as Cheddar cheese, the document adds.
It suggests a number of economic sectors, including energy, carmaking and construction are expected to benefit from a boost if a deal is struck.
However, it said a US deal would lead to a long-term 0.5% reduction in the output of the financial services sector, with resources "reallocated" to other areas.
The UK's release of its wishlist for a trade deal with the US was an hour behind schedule – and a full year behind America's list.
It's a reminder that nothing is likely to go to plan in the year ahead.
The UK, as expected, pledges to protect consumer standards and the NHS. But America wants more access for its farmers, which would likely necessitate a relaxing of standards.
And this is happening at the same time as talks with the EU get underway (conducted, to complicate matters with a different team under the authority of a different Whitehall department) –