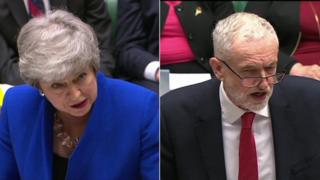 Image copyright UK Parliament
Just hours ahead of her solo pitch to 27 EU leaders for a short delay to Brexit, Theresa May faced Jeremy Corbyn at the dispatch box.
Here is what happened.
While talks continued between the Conservatives and Labour on breaking the parliamentary deadlock on the UK's exit from the EU, the Labour leader avoided the issue of Brexit.
Mr Corbyn did mark the 21st anniversary of the signing of the Good Friday peace agreement in Northern Ireland – as did Mrs May and the SNP's Ian Blackford – and called for it to be maintained post-Brexit.
But he moved on to attack Mrs May over local council funding, claiming nine of the 10 most deprived council areas in the country had seen cuts almost three times the average of any other council.
"We shouldn't forget communities across the country abandoned by this government," he said.
The PM defended her record, saying councils have more money available this year; and she said her government "listened to councils", for example by lifting the borrowing cap at their request to help funding to build new homes.
Mr Corbyn threw more statistics across the dispatch box, saying cuts in Swindon alone amounted to £235 per household and in Stoke-on-Trent it rose to £640, but the affluent county of Surrey was seeing an increase in its funding.
He also claimed 500,000 more children had gone into relative poverty and, in Stoke alone, 4,000 food bank parcels had been handed out to children.
The Labour leader asked: "Does she think areas with the highest levels of deprivation deserve facing the largest cuts in their budget?"
The PM said members across the House "should take action to make sure families are getting more money into their pockets".
Mrs May listed measures taken by her government, from freezing fuel duty to introducing the Living Wage, adding: "He should be backing these measures instead of voting against them."
She admitted that the government had asked local councils "to take difficult decisions to living with our means", but only because of the deficit left by Labour.
In their last exchange, Mr Corbyn said it was a "political choice to impose austerity", which was "vindictive and damaging".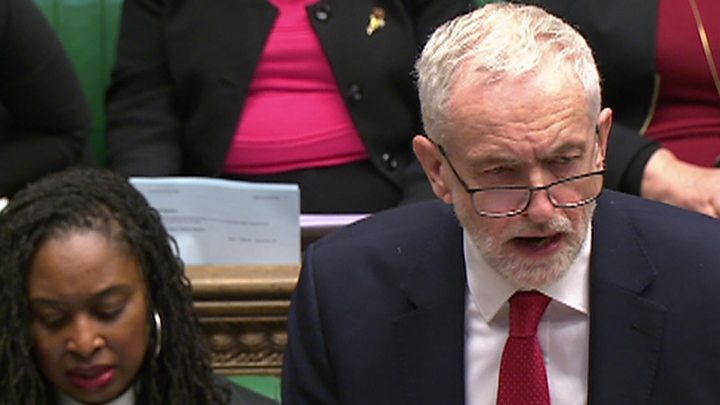 Media playback is unsupported on your device
Media captionJeremy Corbyn and Theresa May on council funding
He concluded: "Far from tackling burning injustices… [she has] pushed councils to the brink and left those 'just about managing' not being able to manage at all.