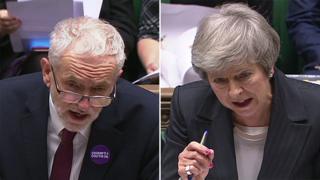 Image copyright HOC
Theresa May went head-to-head with Jeremy Corbyn in the House of Commons. Here's what happened.
With Westminster in near meltdown over Brexit, Jeremy Corbyn threw the prime minister a curve ball and went on her government's record on poverty.
For the second week in a row, he quoted a damning report by the United Nations on the government's "brutal policies" towards the poor. Was she "shocked" by this, he asked, and why had she not replied to a letter he had written to her about it.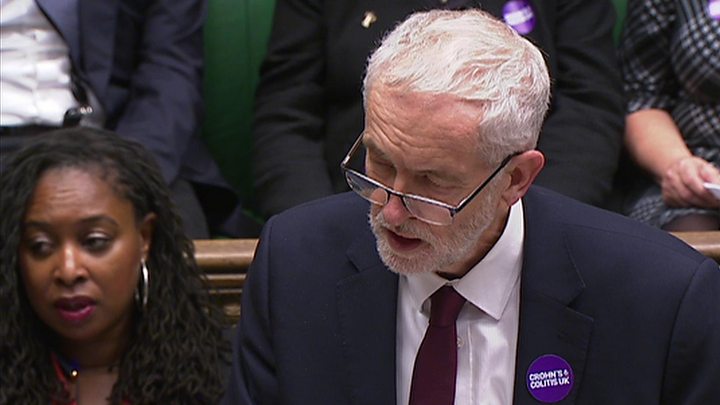 Media playback is unsupported on your device
Media captionJeremy Corbyn asks the PM if she is shocked by the rising UK poverty in UN report?
"We don't agree with this report," said Mrs May. "Absolute poverty," she said, was at "record lows" and "more people were in work than ever before". Youth unemployment had almost halved and wages were rising, she added.
Mr Corbyn called on her to halt the roll-out of universal credit, which he described as a "hostile environment" for benefit claimants.
The government had "listened" to criticism of universal credit and made changes, said Mrs May, and it encouraged people into work and simplified the benefit system.
Skip Twitter post by @BBCPolitics
Jeremy Corbyn asks if the PM will halt the rollout of universal credit, which he says is causing "anxiety and poverty"
Theresa May says the government has listened to concerns and made changes#PMQs: https://t.co/S47Jn30hDF pic.twitter.com/nK3FE3gGZl
— BBC Politics (@BBCPolitics) December 5, 2018
End of Twitter post by @BBCPolitics
Mr Corbyn quoted a report from the Trussell Trust, the main food bank charity in the UK, which criticised the "five week wait" new universal credit claimants face.
People in areas where universal credit was being introduced, including Anglessey, Blackpool, Milton Keynes, parts of Liverpool and London, and elsewhere, "risk being left with no money for Christmas", said Mr Corbyn.
Mrs May claimed "no one" will have to wait for money "if they need it" because the government had made it easier to get advances and 100% of new claimants would get payments up front.
Mr Corbyn dismissed these measures as a "loan that's offered for some people". The Trussell Trust was predicting "record demand" for food banks this December, he said.
"Food banks are not just a photo opportunity for Conservative MPs," declared the Labour leader, "all of whom supported the cuts in benefit that led to the poverty in this country". The Joseph Rowntree Foundation has said "in-work poverty was rising faster than the overall employment rate", he went on.
Why did the UK suffer from "the weakest wage growth of all G20 nations",