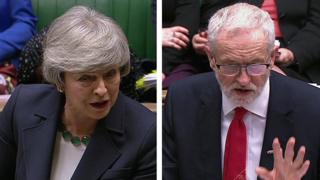 Image copyright HoC
Theresa May went head-to-head with Jeremy Corbyn in the House of Commons. Here's what happened.
Jeremy Corbyn threw the prime minister a Brexit curveball at this session.
Most observers were expecting the PM to get a grilling over reported comments by her chief Brexit adviser Olly Robbins – but the Labour leader went after Transport Secretary Chris Grayling instead.
He focused all six of his questions on the "fiasco" of the Seaborne Freight contract.
The ferry company with "no ships and no trading history" has had its contract to provide services in the event of a no-deal Brexit cancelled.
Mr Corbyn said this was symbolic of the government's "costly, shambolic and evasive" handling of Brexit. "What went wrong?," he asked the prime minister.
Mrs May said 90% of the ferry contracts awarded in case of a no-deal Brexit scenario, went to DFDS and Brittany Ferries.
"Due diligence was carried out on all of these contracts," she told the Labour leader.
The transport secretary had told MPs the decision to award a contract to Seaborne Freight "had no cost to the taxpayer", said Mr Corbyn, but the National Audit Office found that £800,000 had been spent on external consultants to assess the bid. Could the prime minister "correct the record"?
Image Copyright @BBCPolitics @BBCPolitics
Report
Mrs May said Mr Corbyn was "late to the party" because she had been asked about this yesterday by the SNP. "Labour following the SNP, well whatever next," sniped the PM before repeating her line about "proper due diligence".
Mr Corbyn said Freedom of Information requests showed Chris Grayling had "bypassed" the rules which allow normal scrutiny of a deal.
Mrs May said the Seaborne Freight contract had been handed out following individual assessments by consultants, and no money had been paid to Seaborne Freight.
It was "entirely right and proper" to make sure that the government was preparing for any no-deal Brexit, she added.
Mr Corbyn said taxpayers were facing a £1m legal bill for contesting Eurotunnel's court case against the government over its "secretive and flawed" no-deal transport contracts process.
Not only that, he told MPs, Thanet Council, in Kent, was facing a £2m budget deficit as a result of the Seaborne Freight debacle. Could the PM offer "cast iron guarantees" that the people of Thanet would not be hit with this bill?
Mrs May said Department of Transport officials were "in discussions" with Thanet council. The ferry contracts were about safeguarding medical supplies in the event of a no-deal Brexit, she added.
Mr Corbyn said the prime minister should follow the advice of the House and take no deal off the table and "negotiate seriously with the EU".