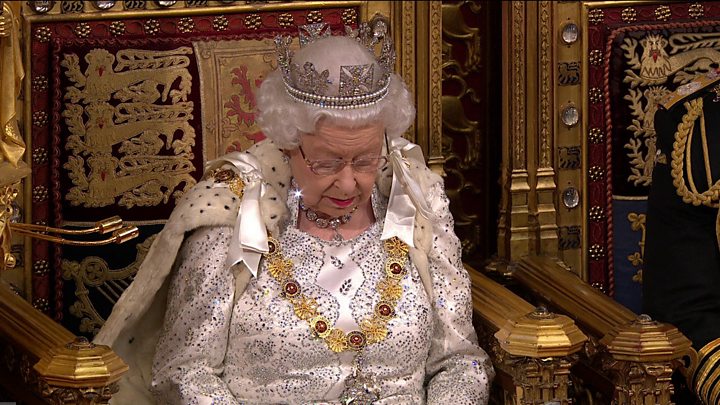 Media playback is unsupported on your device
Media captionQueen outlines government's Brexit plan
Boris Johnson's government has set out "ambitious" policies on crime, health, the environment and Brexit in a Queen's Speech that opposition parties have dismissed as an "election manifesto".
Plans for tougher sentences for violent offenders and legal targets for cutting plastic pollution are among 26 bills set out at Parliament's State Opening.
The BBC's Laura Kuenssberg said it was a "long shopping list".
But with the PM having no majority, many of the bills may not become law.
Our political editor said the PM was keen to focus on "bread and butter issues" like funding for schools and the NHS, or coming up with, at long last, a new way of caring for the elderly.
But she said there was no guarantee the legislative programme would be approved by Parliament. If MPs reject it, it will trigger renewed calls for a general election.
Labour has described the whole exercise as a political "stunt" while the Lib Dems said Mr Johnson couldn't deliver on his promises as Brexit would make the UK poorer.
Despite continuing Brexit uncertainty, the government has said it is determined to press ahead with its plans, announcing its intention to hold a Budget on 6 November.
Negotiations over the UK's departure from the EU continue, with the UK trying to secure an agreement that will enable it to leave by 31 October.
The government says if it can strike a deal with the EU, it will introduce a withdrawal agreement bill and aim to secure its passage through Parliament before the Halloween deadline, describing this as its over-riding "priority".
Image copyright Getty Images Image caption The Queen was accompanied by the Prince of Wales
Image copyright PA Media Image caption The origins of the current State Opening date back to the 1850s
Image copyright PA Media Image caption The prime minister's partner, Carrie Symonds, was among those watching on
Image copyright AFP Image caption Labour described the Queen's Speech as a "party political broadcast"
The Queen's Speech is famous for its pageantry – with the monarch arriving at the Palace of Westminster in a carriage procession and delivering her speech from the throne in the House of Lords, flanked by the Prince of Wales.
Mr Johnson, who will lead a debate on the proposals later, said his government was focused on "seizing the opportunities that Brexit present".
The 26 bills include:
Seven pieces of Brexit-related legislation,