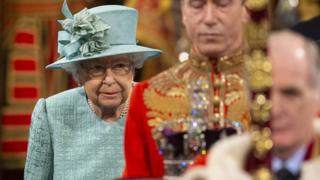 Image copyright Getty Images
The government has laid out its legislative plans for the year in the Queen's Speech. From Brexit to health, trade to the environment, it gives us a sense of what politicians will be debating over the next few months.
Our experts analyse what was, and wasn't, said and what it all means for you.
The Ministry of Justice and the Home Office will be among the busiest departments under Boris Johnson's new administration – a reflection of the importance he attaches to law and order.
A number of measures, including those relating to domestic abuse, victims and policing, have been put forward before, but there are also new proposals on sentencing which could lead to a significant increase in the prison population among those jailed for violence, sexual assault and terrorism.
Plans to extend the use of "whole-life" tariffs, where offenders can be ordered to spend the rest of their lives behind bars, are vaguely worded, indicating ministers are open-minded about the range of crimes for which offenders should be locked away for ever.
The idea which has the most potential to alter the criminal justice landscape is for a Royal Commission to examine the process from arrest to sentence. The last time there was such a review was in 1991.
The terms of reference and the chairperson have not been announced – they will be key to understanding which destination the government wishes the commission to steer towards. Interesting times lie ahead.
Environmentalists have welcomed many of the provisions of the new environment bill.
But they point out that ministers are still committed to North Sea drilling, building roads that experts say will generate traffic, and blocking onshore wind power.
They have stayed silent on aviation expansion, and have imposed a moratorium on fracking, rather than the permanent ban which some in the north of England were demanding.
Critics point out that the planned new green watchdog won't have the sort of powers to take legal action that prompted the UK to improve air quality under the threat of fines.
Action on business rates was billed as a measure to "keep town centres vibrant" – but what's on the table for now will only bring limited relief.
Business groups have long been calling for a revamp of the rates system, which raises more than £31bn for the government each year. A quarter of that burden falls on retailers, who pay regardless of profit, says the British Retail Consortium.
So a one-year extension of a discount for some retailers and an extension of the scheme to pubs, music venues and cinemas – with a saving of £320m – may feel tokenistic.