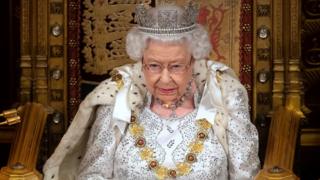 Image copyright Reuters
The Queen was clad in full ceremonial robes as she delivered her speech at Parliament's State Opening.
But one thing was missing from her elaborate outfit: the jewel-encrusted Imperial State Crown.
Instead, she wore the diamond diadem recognisable from her profile on British stamps and coins, while the crown rested on a table beside her.
The decision didn't go unnoticed on social media.
Skip Twitter post by @kateferguson4
The Queen wore the State Diadem (pictured right) for today's Queen's Speech. It is only the third time she has not worn the Imperial State Crown (pictured left) since 1952 pic.twitter.com/ikKG4FVx5M
— Kate Ferguson (@kateferguson4) October 14, 2019
End of Twitter post by @kateferguson4
The choice was a matter of personal preference for the 93-year-old monarch.
The diadem is much lighter than the crown.
The tiara is traditionally worn for the journey to and from Parliament.
The crown, which was commissioned for the Queen's father, George VI's, coronation in 1937, boasts nearly 3,000 diamonds, 17 sapphires, 11 emeralds and around 270 pearls – in addition to the large diamond, ruby and sapphire that adorn the back and front.
The rim of the George IV State Diadem, however, is about a quarter of the width and set with around 1,300 diamonds and 170 pearls.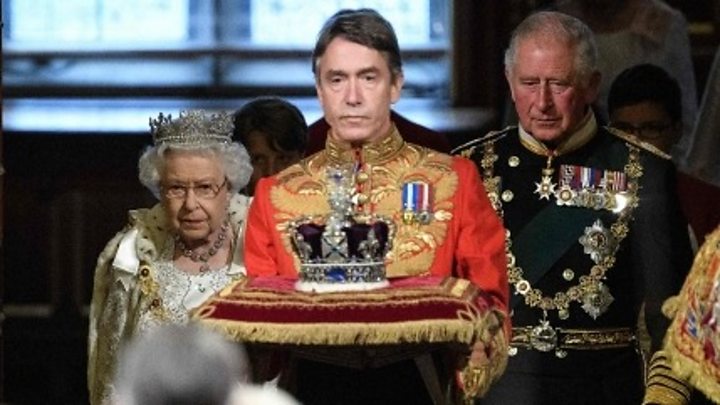 Media playback is unsupported on your device
Media captionA look at the fanfare and formality behind this year's State Opening of Parliament
The Queen commented on the weight of the crown, which she wore at the end of her coronation and for most State Openings of Parliament since, in a BBC documentary last year.
She described it as "unwieldy".
"You can't look down to read the speech, you have to take the speech up, because if you did your neck would break – it would fall off," she said, smiling.
"So there are some disadvantages to crowns, but otherwise they're quite important things."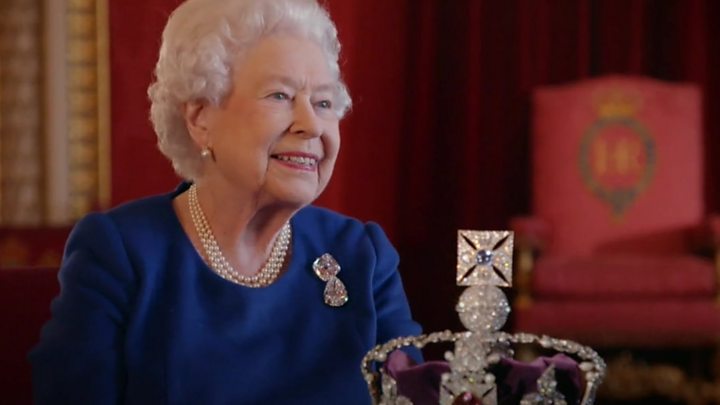 Media playback is unsupported on your device
Media caption"You can't look down" while wearing a Royal crown, the Queen tells royal commentator Alastair Bruce
Royal commentator Richard Fitzwilliams said the decision not to wear the crown was a "practical alteration" to the Queen's schedule that was "part and parcel of the monarch growing older".
"There's no question that it's just a matter of accommodating advancing age in as dignified a way as possible,"