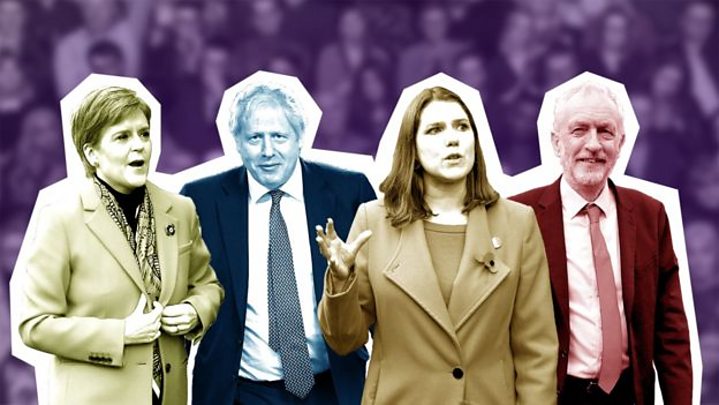 Media playback is unsupported on your device
Media captionWatch highlights from the Question Time leaders special
Never work with children, animals or – leaders of the four main political parties may now be reflecting – members of the BBC Question Time audience.
Audience members were selected Audience members were selected to reflect how people in the country have voted.
Jeremy Corbyn, Nicola Sturgeon, Jo Swinson and Boris Johnson took it in turns to be grilled for half an hour each.
And while all may be practised in the political arts of deflection, it's often harder to duck and dive when asked questions directly by members of the public.
Each leader faced difficult questions. What were the toughest and what did people online make of the answers?
Image copyright Twitter
Jeremy Corbyn
Q: I look at a video of Ruth Smeeth online where she was in a press conference with you and Ruth Smeeth – a Jewish MP – was heckled out of that press conference with you. At the end of the press conference there you are chatting to that same heckler. I don't buy this "nice old grandpa".
A: Nobody should suffer any abuse in public life or privately. Nobody should suffer abuse and many women Labour MPs, Ruth Smeeth included, have suffered the most unbelievable levels of abuse. And it was a Labour MP Jo Cox who was murdered because she stood up in public life… Bad behaviour, misogynism, racism in any form is absolutely not acceptable in any form whatsoever in my party or in society.
In 2016, Labour MP Ruth Smeeth called for Jeremy Corbyn to "resign immediately" for what she saw as his failure to intervene when "anti-Semitic slurs" were directed towards her in front of him.
Ms Smeeth walked out of a press conference held to launch a report on anti-Semitism in the Labour Party.
"It is beyond belief that someone could come to the launch of a report on anti-Semitism in the Labour Party and espouse such vile conspiracy theories about Jewish people," Ms Smeeth said in a statement at the time.
"The leader of my own party stood by and did absolutely nothing."
A Labour Party spokesman said at the time: "All allegations of anti-Semitism are taken very seriously by the Labour Party and that is why Jeremy asked Shami Chakrabarti to produce her report the conclusions of which we will consider carefully."
Image copyright Twitter
Nicola Sturgeon
Q: Would you prioritise a Scottish independence referendum over ending austerity?
A: I want the Scottish people to have the right to choose their own future.