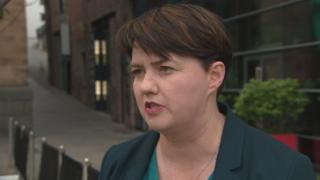 Image caption Ruth Davidson said Brexit should be delivered "but not at the expense of breaking up the UK"
Scottish Tory leader Ruth Davidson has told party members who would put Brexit ahead of preserving the UK union to "take a long, hard look at themselves".
A YouGov survey of Conservative members suggested 63% would back Brexit even if it meant Scotland leaving the UK.
Ms Davidson said the 2016 EU referendum result should be delivered, "but not at the expense of breaking up the UK".
She also said her chosen candidate in the leadership race, Sajid Javid, was "doing really well in the debates".
There are five candidates still in the running to replace Theresa May as Tory leader and prime minister, with Boris Johnson the frontrunner.
The YouGov survey of 892 Conservative Party members, conducted earlier in June, saw 63% of those taking part saying they would rather Brexit took place, even if it meant "Scotland leaving the United Kingdom".
On the other hand, only 29% of respondents said they would rather Brexit did not take place to avoid this scenario.
Scottish Brexit Secretary Mike Russell said the survey was "devastating" for Ms Davidson, saying it showed Tory members regarded the UK as "expendable in pursuit of the Brexit chimera".
So committed to Brexit are members of the Conservative and Unionist Party that they would be willing to see Scotland (63%) and Northern Ireland (59%) leave the UK in order to secure it. https://t.co/9iJKlB292v pic.twitter.com/4j7bCPg6aK
— YouGov (@YouGov) June 18, 2019
End of Twitter post by @YouGov
Asked about the survey by the BBC, Ms Davidson said: "I think there are a number of people within the Conservative Party who need to take a long, hard look at themselves.
"Yes, I understand of course we have got to respect the referendum result, of course we've got to deliver Brexit, but not at the expense of breaking up the UK.
"I would remind people of their obligations within the party – yes, we're a Conservative Party, but we're also a Unionist party, and I'd remind them that our own union of nations is every bit as important as leaving someone else."
Ms Davidson also reacted to the latest round of voting in the Tory leadership contest, which saw her preferred candidate – Home Secretary Sajid Javid – only just make the cut with 33 votes.