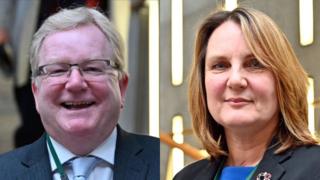 Image copyright Getty Images Image caption The contest between Mr Carlaw and Ms Ballantyne has been increasingly bitter
The Scottish Conservatives are to unveil the winner of the contest to succeed Ruth Davidson as party leader.
The two candidates are MSPs Jackson Carlaw and Michelle Ballantyne, with party members electing the winner.
Mr Carlaw has been interim leader since Ms Davidson's resignation in August, and is seen as the clear favourite to win the ballot.
The contest has been bad-tempered, with the two candidates trading insults ahead of the result being announced.
Ms Ballantyne, who believes she has strong grassroots support but has not won public backing from any MPs or MSPs, accused Mr Carlaw of running a general election campaign that "lacked vision and ambition", with the party losing seven of its 13 MPs.
Mr Carlaw hit back by claiming his opponent was the only member of the Tory frontbench team at Holyrood never to submit a "single policy proposal".
The winner will be announced at an event in Edinburgh at about 10:00.
The Scottish Conservatives are currently the second biggest party at Holyrood, with Ms Davidson widely credited with turning around its electoral fortunes in her eight years as leader.
But she quit shortly after returning from maternity leave, saying that "much had changed" both politically and personally in recent months.
As well as the birth of her son, Ms Davidson had been a vocal critic of Prime Minister Boris Johnson – particularly over his approach to Brexit.
Her successor will have to prepare the party for next year's Scottish Parliament election, with opinion polls suggesting that the SNP remains on course to win a fourth successive term in government.
Who are the leadership candidates?
Image copyright Getty Images Image caption Jackson Carlaw is a close ally of Ms Davidson, and has been the party's acting leader since she resigned
Jackson Carlaw worked as a car salesman in the west of Scotland for 25 years before being elected as an MSP, but has been involved in politics since joining the Conservatives as teenager in the late 1970s.
He first stood as a candidate in the 1982 Queen's Park by-election, and after several other unsuccessful attempts was eventually elected as a list MSP for the West of Scotland region in the 2007 and again in 2011 – when he also became Ms Davidson's deputy leader.
Mr Carlaw, who is married with two children, was elected as the MSP for Eastwood in 2016, and served as acting leader when Ms Davidson went on maternity leave ahead of the birth of her son in May of last year.