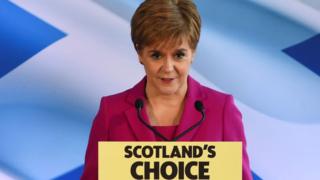 Image copyright Getty Images Image caption Nicola Sturgeon wants to hold an independence referendum later in 2020
Nicola Sturgeon is to set out her "next steps" towards holding a new referendum on Scottish independence, on the day the UK formally leaves the EU.
The Scottish first minister says she wants to hold indyref2 later this year, but Prime Minister Boris Johnson has already rejected her request.
Ms Sturgeon is not expected to announce plans for an unofficial referendum.
And she is not thought likely to mount a legal challenge over the UK government's refusal to grant consent.
BBC Scotland political editor Brian Taylor said Ms Sturgeon will instead argue that the momentum and weight of history are towards independence.
He told the BBC's Good Morning Scotland programme: "On the one hand it is that message of independence being just around the corner, just over the horizon, but also saying to her party – perhaps a slightly restless party – that they should perhaps have patience."
Ms Sturgeon will address an audience of SNP activists in Edinburgh at about 09:30, with the party saying she will outline "the next steps on Scotland's journey to independence".
The event comes just hours before the whole of the UK leaves the EU at 23:00, despite Scottish voters backing Remain by 62% to 38% in the EU referendum.
Ms Sturgeon is due to say: "Tonight Scotland will be taken out of the European Union against the wishes of the overwhelming majority of people in Scotland.
"Nothing could more starkly demonstrate how our nation's needs are no longer served by a broken, discredited Westminster union.
"But there is the prospect of a brighter, better future as an equal, independent European nation."
What might Ms Sturgeon announce?
In previous updates on the campaign for independence, the SNP leader has announced votes in parliament, legislation, two requests for transfer of powers, a "growth commission" of economic arguments, a social justice commission, a national survey, a citizens' assembly, an attempt at cross-party talks on the constitution, and a series of doorstep campaigns.
What is left to announce, her supporters wonder, other than setting the date for a referendum?
For some more vocal elements, nothing short of that will be enough – and the sooner the better. But Ms Sturgeon is loathe to press ahead without an agreement because she needs the vote to be internationally recognised if, as she hopes, an independent Scotland were to someday rejoin the EU.
So today may ultimately be more about politics than process.