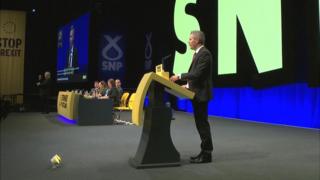 Scotland's finance secretary has used his speech to the SNP conference to claim the party is winning the argument on Scotland's economic future.
Derek Mackay said the country can "more than afford" to be independent.
He also argued that staying part of the UK leaves Scotland "subject to the whim of Westminster turmoil".
And Mr Mackay told delegates that convincing people they will be better off after independence is key to winning them over.
Nicola Sturgeon, the SNP leader and Scottish first minister, says she wants to hold a second independence referendum next year, but the UK government has repeatedly said it will not give the consent Ms Sturgeon says is needed to ensure any vote is legal.
Mr Mackay told the conference in Aberdeen that the party's unionist opponents are "panicking" because the "case for the Union has been "completely demolished over the last few years" due to Brexit and austerity.
He added: "We have always known that convincing people that they will be better off in an independent Scotland is key to winning their support and opinion polls clearly show that confidence in an independent Scotland's economy is growing.
"The message is ringing through loud and clear – Scotland cannot afford the Union. Our economy, our public services and our people cannot afford to be subject to the whim of Westminster turmoil for years and years.
"Scotland cannot afford the Union, but it can more than afford to be independent."
Image copyright PA Media Image caption Ms Sturgeon will bring the SNP conference to a close with her keynote speech on Wednesday afternoon.
Scottish government statistics published in August showed that Scotland spent £12.6bn more on public services than it raised in taxes over the previous year.
This was lower than the £13.8bn deficit estimated for the previous year, and was equivalent to 7% of the country's GDP. The UK as a whole has a deficit of £23.5bn – or 1.1% of its GDP.
Pro-UK parties argue that the Scottish deficit figures show there would be "black hole" at the centre of an independent Scotland's finances.
The second day of the three-day SNP conference is being held as Prime Minister Boris Johnson unveiled his new legislative agenda in the Queen's Speech, which the UK government has described as an ambitious programme for a post-Brexit Britain.
Image copyright Getty Images Image caption The Queen stressed the importance of the Union during the state opening of Parliament
In her speech, which is written by the government,