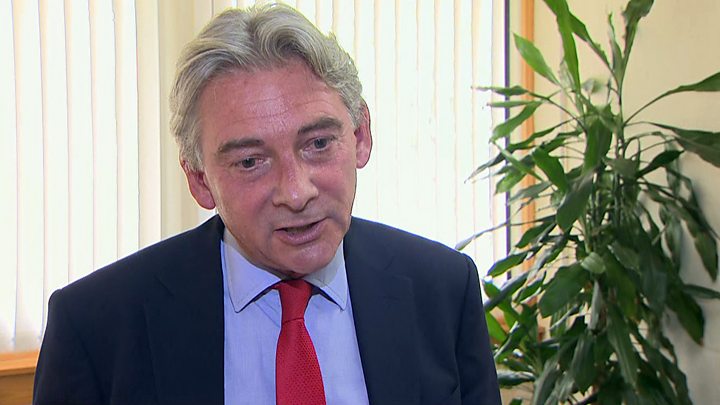 Media playback is unsupported on your device
Media captionRichard Leonard: "I am clear that the Labour Party's position at the moment is opposition to a second independence referendum."
The Scottish Labour leader has hit back at suggestions from shadow chancellor John McDonnell that the party would not oppose an independence referendum.
Richard Leonard said he had made clear to Mr McDonnell that there is "no case" for a second referendum.
He also claimed that the majority of people in Scotland were still opposed to one being held.
Mr McDonnell has said a Labour government would not block any request from Holyrood to hold a vote.
His comments – which have been heavily criticised by several senior Scottish Labour figures – contradict the party's general election manifesto pledge to rule out a referendum, as well as previous public statements by Mr Leonard.
Mr Leonard told BBC Scotland that Labour's official policy is still to oppose a referendum.
He said he had spoken to Mr McDonnell to "put to him the very clear view that the people of Scotland do not want a second independence referendum and also to remind him that the last independence referendum was supposed to be once in a generation".
Mr Leonard added: "I was elected 18 months ago directly by the members of the Scottish Labour Party, and one of the parts of the platform I stood on was clear opposition to a second independence referendum.
"So I think it's pretty clear where I stand, it's pretty clear where the membership of the Scottish Labour Party stand and that's the view that we'll be communicating.
"We will be doing everything we can do to make sure it is in the Labour manifesto for the general election, whenever it comes".
Image copyright Getty Images Image caption Mr Leonard is traditionally seen as a close ally of UK Labour leader Jeremy Corbyn
He also said that, should Labour win a general election, Mr McDonnell would have more pressing priorities to deal with as Chancellor than an independence referendum – such as "resolving austerity, investing in public services and trying to tackle whatever situation we find ourselves in with Brexit".
An opinion poll published on Monday put support for independence at 52% in Scotland – with 48% opposed – once those who do not know how they would vote were excluded.
But Mr Leonard said his stance on a second referendum would only change if the will of the Scottish people was shown to be "demonstrably" different from 2014, when voters rejected independence by 55% to 45%.