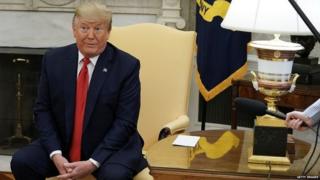 Image copyright Getty Images Image caption Donald Trump has got his way – but at what cost to relations with the UK
Sir Kim Darroch's resignation as the UK's man in Washington could have ramifications for the future of the special relationship with the US and the ability of diplomats and other civil servants to do their jobs.
But the row over his departure, and crucially the role Boris Johnson played in it, has also come in the middle of the Conservative leadership race – and given MPs already hostile to Mr Johnson something tangible and timely to grab onto.
The gloves have certainly come off between the Johnson and Hunt camps in a way that was not expected when the latter – dismissed in some quarters earlier in the race as a "vanilla" candidate – made the final two.
So does the outcry over the diplomat's exit have the potential to ruffle what had seemed like Mr Johnson's serene progress to Downing Street?
What's the political fallout been?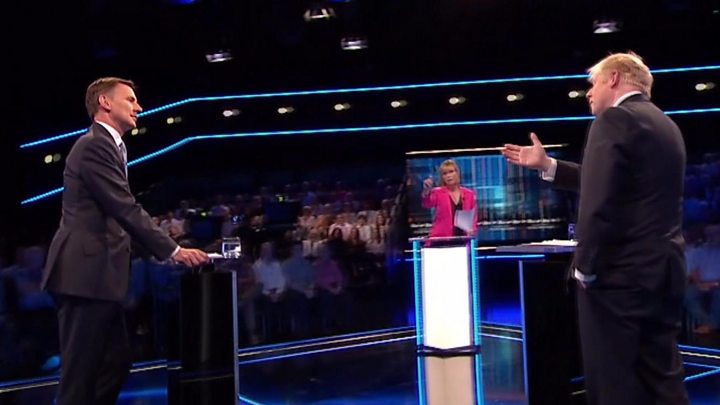 Media playback is unsupported on your device
Media captionMr Johnson's comments in Tuesday's debate angered some Tory MPs
Although he defended the civil service during Tuesday's ITV leaders' debate, Mr Johnson conspicuously refused to back Sir Kim.
This went down badly with many MPs, even before it emerged Sir Kim had quit.
The suggestion that Mr Johnson's lukewarm endorsement may have contributed to the veteran diplomat's decision to stand down has turned that dismay into visceral anger.
Image Copyright @BBCJLandale @BBCJLandale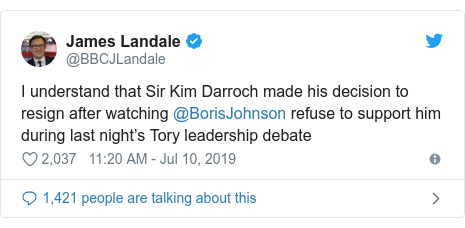 Image Copyright @BBCJLandale @BBCJLandale
Report
Foreign Office minister Sir Alan Duncan accused his former boss of throwing the diplomat "under a bus".
In an extraordinary series of attacks, he described Mr Johnson's subsequent praise for Sir Kim as "insincere guff" and suggested he had failed to act in the national interest.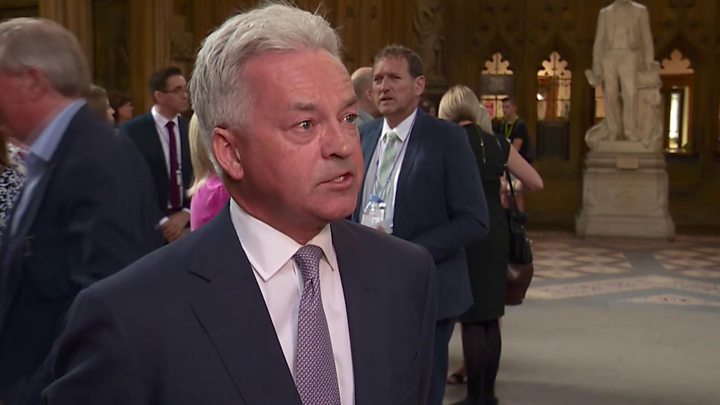 Media playback is unsupported on your device
Media captionSir Alan Duncan says Boris Johnson has "thrown our top diplomat under a bus"
"It was pretty contemptible and not in the interests of the country he is trying to lead."
But remember, the two men have history. Sir Alan, a strong Remain supporter, is not a Johnson fan and once memorably referred to his colleague as "Silvio Borisconi" in the Commons.
Tom Tugendhat, the former soldier who chairs the Commons Foreign Affairs Committee, also made his views about Mr Johnson's actions clear in a critical tweet.
Image Copyright @TomTugendhat @TomTugendhat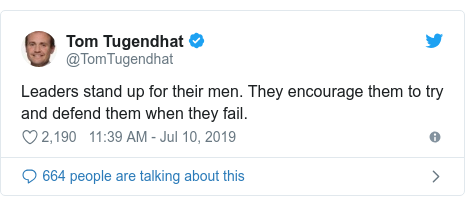 Image Copyright @TomTugendhat @TomTugendhat
Report
But again, this will have come as no surprise since Mr Tugendhat backed Michael Gove in the earlier phase of the Tory contest,